Alpha, Foxtrot, Charlie…
Whilst Brazilian Santos-Dumont had flown with his famous Cartier watch in 1906, there was a limited need for its functionality as a timing instrument over his 220 metre journey and 21.5 seconds of flight. Planes, dirigibles, and balloons jockeyed for air supremacy, with the course of aviation history shaped forever during seventeen days, in October 1910.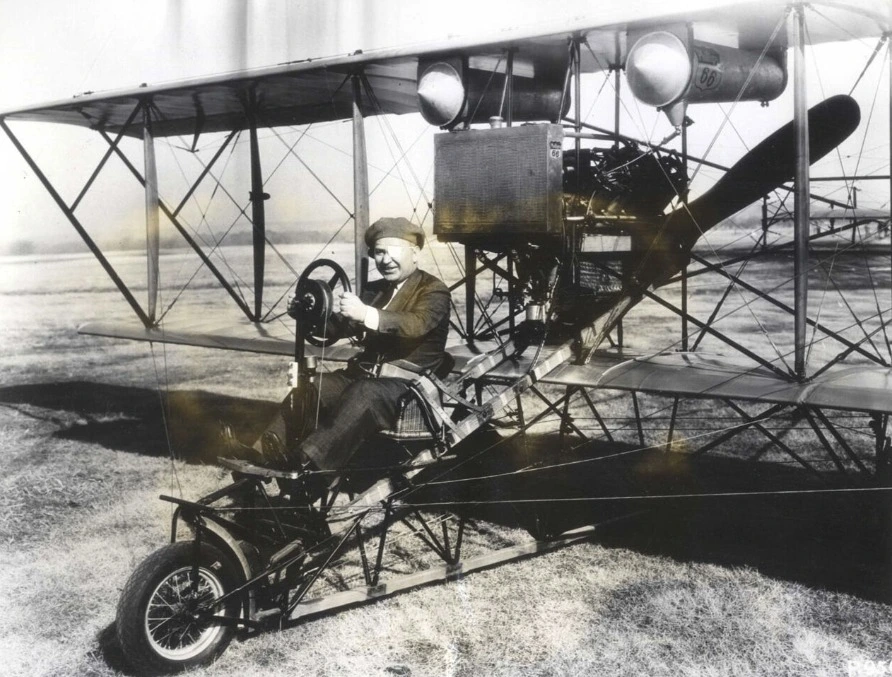 Wellman's dirigible America required a dramatic sea rescue after an unsuccessful Atlantic attempt, whilst Hawley and Post set a distance record in the Bennett International Balloon Cup, only to be lost in the wilds of Alaska.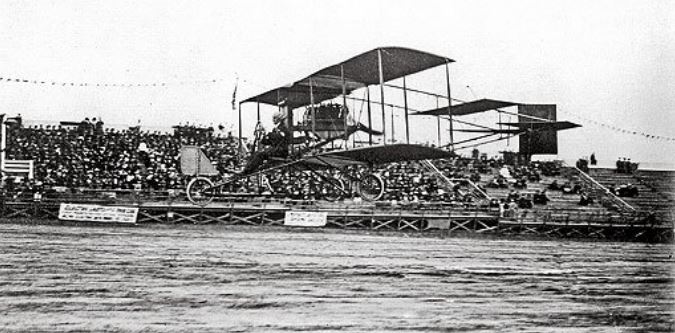 The winner, the plane – after a nine-day aviation meet at Belmont Park, Long Island. Twenty-seven international pilots enthralled paying crowds who watched as speed, altitude and distance records were broken.  It ended October 27, with the very first ever race over a built-up area – around the Statue of Liberty, controversially won by the Frenchman, Henri Moisant.
Pilots were soon dependent upon robust, accurate and reliable timepieces, technical instruments and their ability to use them. P.V.H Weems, the grandfather of the modern-day G.P.S system, whose air navigation techniques were used for three decades stated, "It is perhaps fortunate that timepieces were developed before radio, or else extremely accurate timepieces would probably never have been made".[1]
Post 1910, wristwatches gained popularity among aviators as they allowed easier timekeeping when worn on the wrist. In 1912, The Imperial Russian Air Service (IRAS) was born and by the start of WWI they had the largest airforce in the world with 263 aircraft. The nearest rival, the French, had just 148.[2]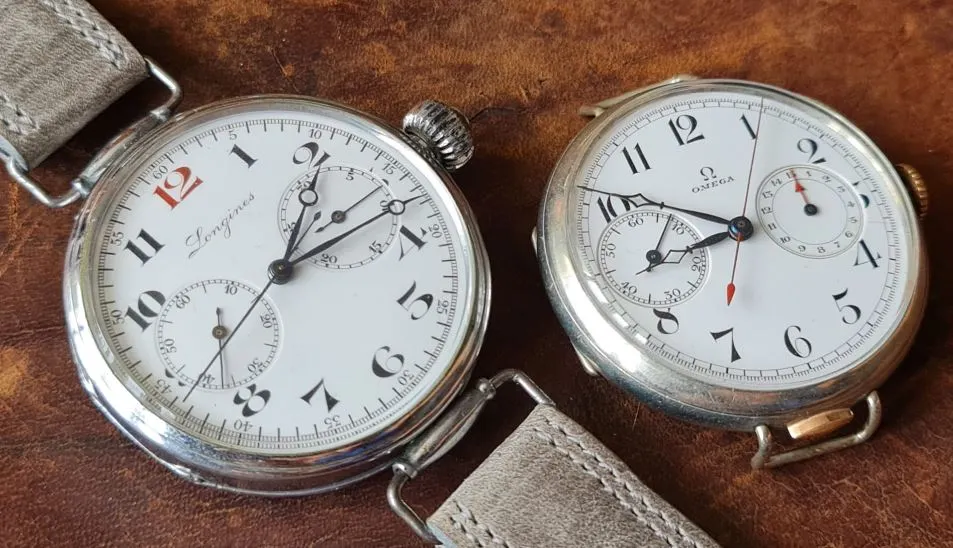 With the Great war on the horizon, John Heinmuller, a watch maker who worked for Wittnauer was the key driving force behind the supply of cockpit instruments and plane calottes to the burgeoning U.S. Army Air Corps under both the Longines and Wittnauer brands.
Perhaps one of the earliest and most beautiful known surviving examples the author has seen is a magnificent Longines cal 19.75 white dial example supplied in 1915 to the French air force.  The text Propriété de l'aviation militaire in printed on the dial above the six o'clock position. Similar ads for calottes, first appeared in the magazine title, L'Illustration, in 1916.
Whilst there were a couple of early wrist chrono stop creations around 1910, including a Pulsographe, for medical application, and a Jenneret, linked with Lugrin (the precursor to Lemania). The demand for aviation wrist chronographs exploded, and the very first of these was made by Longines, who essentially repurposed a thinner execution of the 19.73N pocket watch calibre into a wrist chronograph and noted this specifically in their archives.
The very first example, with serial 2312118, and two consecutive numbered 48mm pieces, were made in May 1911, and invoiced to their Russian agent Schwob, in October of the same year.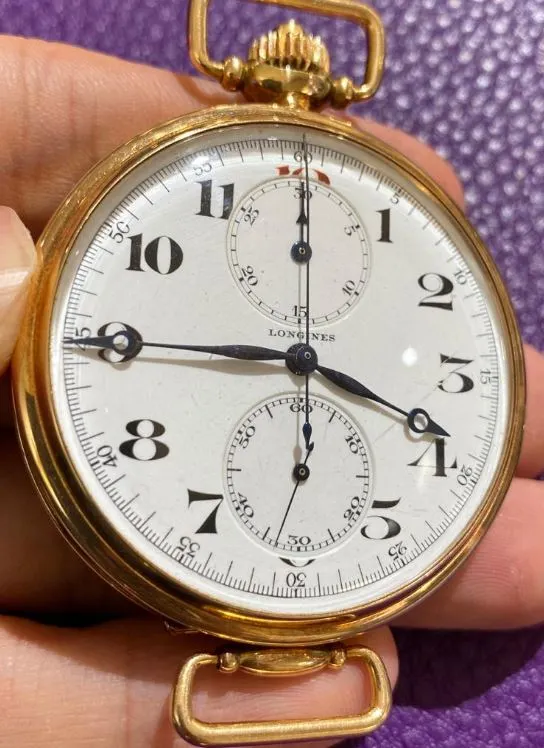 A further thirty pieces – in metal, silver and a few 14k gold cases were completed in 1911, and delivered to Russia between May and August 1912.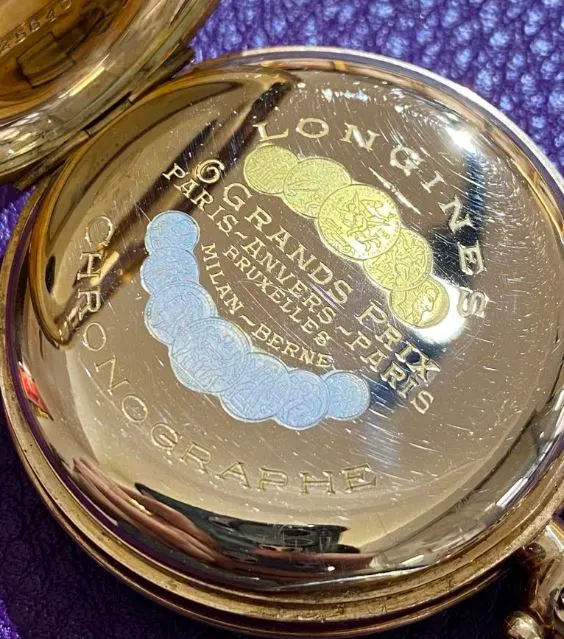 All thirty-three pieces predate the delivery of thirty repurposed Longines 13.67Z wrist chronostops delivered to Schwob and Wittnauer in late 1912. Other early wrist chrono pieces by Henry Moser & Cie and Paul Buhre's Faber type watches were also delivered to Russia in the leadup to WWI.
Longines delivered their very first dedicated wrist chrono movement in 1913, with the 13.33Z, and it was used in watches worn by Admiral Byrd, Ruth Nichols, Amelia Earhart, and Lindbergh among others. The hand finished high grade movement was very expensive to produce and their archive records indicate the cost was approximately double the price of the famous 13ZN which arrived years later in 1936-7. In 1914, Gallet delivered a number of wrist chronos for the British Royal Air force, with the very first of these, an all silver cased, pusher in the crown, 13 ligne Valjoux model in a 35mm case.
Omega submitted its first wrist contender, the ref CH 168.18, a 44mm, 18 ligne pocket watch calibre, featuring an oval pusher at six with a first known delivery in July 1915. Supposedly, Lawrence of Arabia's famous Omega wrist chronograph watch with a radium dial was one of these but comprehensive research points to "his" supposed watch being first born as a pocket watch with no conclusive proof his. Similarly, a 1916 L'Illustration advertisement features a radium dial piece.
Their foray pipped the introduction of Breitling's oversized Montbrilliant model, which laid claim to being the first chronograph with an independent pusher at two. Its challenger, Gallet's so called Valjoux 22GHT, with a Reymond Freres movement, arrived at a similar time. The watch housed in a larger 38.5mm case was also supplied to the British military.
It should be noted that all of these early wrist chronographs are exceptionally rare with many featuring enamel dials and almost all examples elude even the nimblest eyed long time collectors.
Post WWI, Longines became the official supplier of navigational instruments of the International Aeronautic Association in 1919. The same year French hotelier Raymond Orteig offered an incredible prize of 25,000USD for a non-stop aviation crossing of the Atlantic, between New York and Paris, in either direction. The commercial and the exploration aviation age had its own set of challenges. Almost no one could see the civil age of aviation that lay a few short years ahead.
However, the nation's airmen and women left over from the Great War sought to prove aviation's potential and address aircraft vulnerabilities and expense in international competitions chasing speed, distance, duration, and altitude records and aviation and exploration exploits soon became a bright spot in the mid-twenties.
There were larger, more efficient and reliable performance engines, weight reduction with aluminum, and the growing access to funding by entrepreneurs and governments who were starting to see aviation's transportation and military potential – although, at times, this was challenging to acquire.
Two basic methods of early navigation existed at this time. The first – 'dead reckoning', which included taking the last definitely known position, and carrying forward with the last known speed, drift, course, and use of a compass. The other 'pilotage', where known landmarks, rivers, mountains, and maps were used to assist at lower altitudes. To this, both radio and celestial navigation would soon be added.
Radio signal accuracy allowed perfect and easier time synchronization worldwide.  This expanded significantly in February 1924, when the British Astronomer Sir Frank Dyson developed the famous BBC "pips" using two mechanical Royal Observatory clocks which became known as the Greenwich Time Signal (GTS).
This opened the door to dramatic changes in navigational needs and the advancement of the commercial, recreational, military aviation pursuits alongside the transportation age.
Consequently, it necessitated the need for a range of specialist navigation timepieces in the years to come.  
---
Special thanks to Khalid @
[1] Air Navigation Weems 1931 first edition p399
[2] History of light aviation of the French Army 1794–2008, Lavauzelle, Collection of History, Memory and Patrimony, Général André Martini, 2005, Paris, pages 36,42, ISBN 2-7025-1277-1