Dieudonné Costes is best known for the extraordinary Paris to New York flight of September 1930. There are obvious comparisons to be made to that of Lindbergh's famous New York to Paris flight of 1927, with one seemingly minor difference. Costes and Maurice Bellonte flew the Point d'Interrogation in the westbound direction. It is for this and other feats that Dieudonné Costes is a member of the Longines Honor Roll.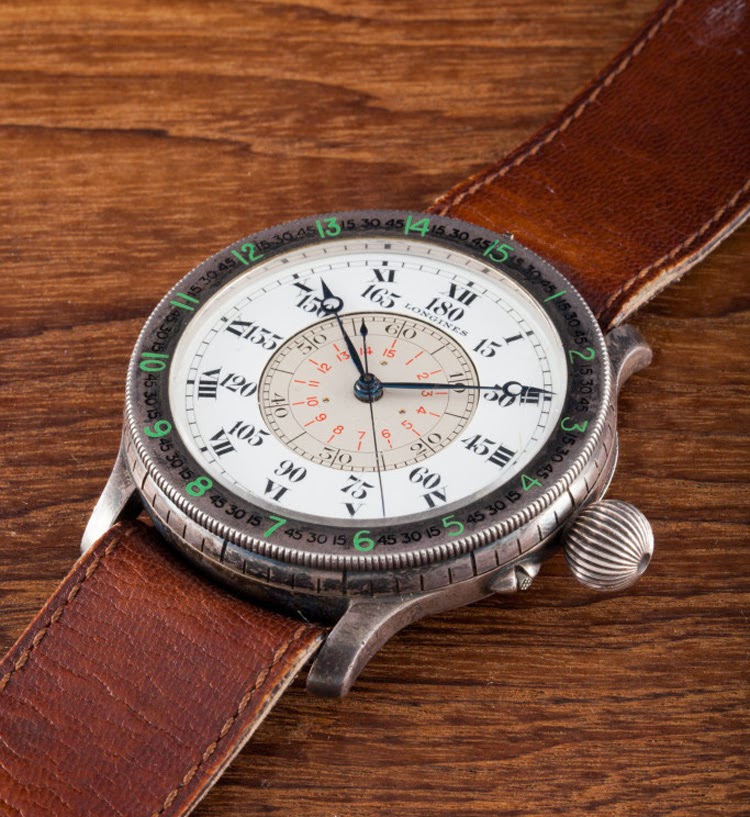 It is rather fitting then, that Costes would acquire an Hour Angle watch supposedly gifted by the very creator of the watch himself.  The watch is a first generation of Lindbergh's creation with an all silver case and bezel, using an 18.69N calibre movement with serial # 5147631. The nickel silver calibre 18.69N movement was adjusted to isochronism and the watch was delivered to Perruset & Didisheim in Paris on the 22 December 1931 making it one of the very first pieces ever delivered.
At this stage in Longines horological history, movement and case numbers on Longines watches matched one another.   In or about 1938, these large pilot models changed over to an order number on the case and a unique serial number movement.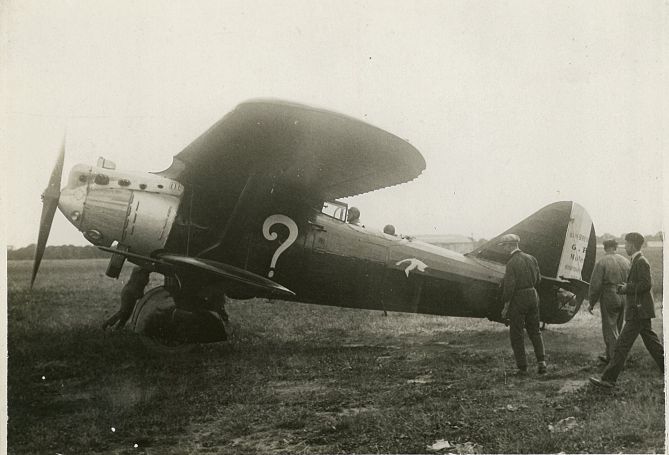 The Lindbergh was the very first turning bezel watch of any maker, preceding dive watches by some twenty years. A letter to Lindbergh from Longines on December 20, 1930, noted " We have finished the special navigator watch with moveable bezel."[1]
The very first turning bezel watch and this Lindbergh prototype featured a detailed silver bezel calibrated with unit of arc markings in green with divisions in black and was thinner than the production models that followed shortly.
All Hour-angle pieces for the life of the watch had beautiful solid silver handmade bezels. Three different bezel variations were used over the life of the production watch. The first two versions use a slightly larger calibrated bezel with degree markings in green enamel with black divisions and for the last iteration blue replaces the green. Aside from the enamel changing colour, the font size increases dramatically on the second and third versions. The larger numbering makes the bezel text more readable and increases its functionality as a tool watch.
Costes piece features the rarest bezel version with featuring green and black enamel work with the small size unit of arc markings on the bezel. The green calibrated for 15 degrees with divisions in black.  The 4's used are closed (on the prototype piece and this very first series). The other distinguishing features of the first generation model are the very flat profile case profile with little downward sweep of the lugs and the enamel dial has single black text printing.  Changes to improve legibility would see the dial have blue added to it to increase the contrast and readability.
The Hour angle watch existed only in the form of Lindbergh's prototype pieces at the time of Costes and Bellonte's successful September 1930 flight. The first production model was first delivered to the market in late 1931. A patent request had been made on the 29th of September 1931 to the International Office for Intellectual Property in Berne Switzerland and approval received just two days later on October 1.
Costes piece and other first generation pieces share the same flat case profile with little downturn of the lugs. In the generations that followed the case profile changed considerably with beefier downward swept lugs.
Costes and Bellonte's feat was a journey that was significantly more difficult than Lindbergh's eastbound route. They were forced to compete with strong headwinds that slowed their pace and robbed the scarlet Breguet Sesquiplane of fuel. The distance covered was also far greater than that of Lindbergh's journey; 'Costes and Bellonte successfully covered 4,100 miles Westward to Lindbergh's 3,610 miles to the East with an almost identical flying average of 109 miles an hour.'[1]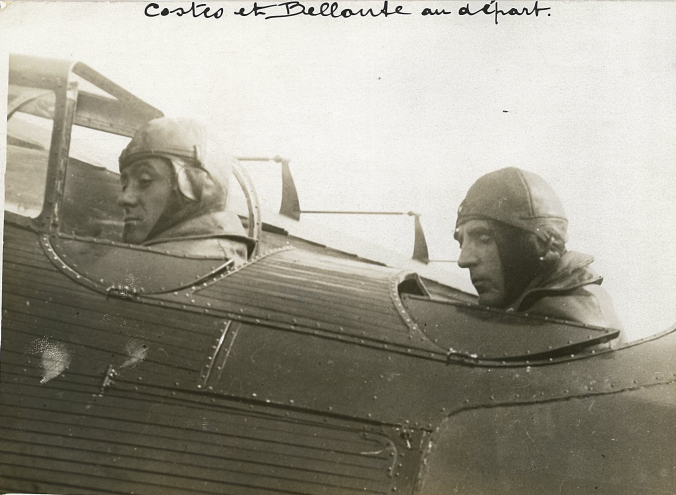 On the 2nd of September 1930, they were met by an overwhelmingly large crowd in Paris with Lindbergh leading the welcome parade. Popular Mechanics recounted: 'Capt. Dieudonne Costes, pilot, and Maurice Bellonte, navigator, had dropped out of the skies in their scarlet Breguet Sesquiplane, thirty-seven and a quarter hours out from Paris, nonstop.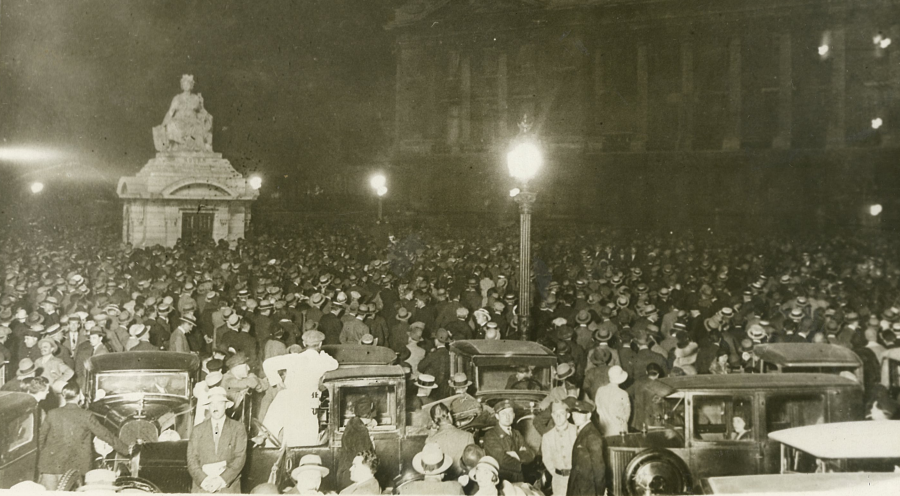 They had completed the first flight ever made from Europe direct to the United States.'[2] Flights like Costes would enable the commercial aviation we know and love today. Without these early feats of skill and daring, we would not traverse the skies with such ease.
Born on November 14, 1892, French Costes would learn his craft as an ace fighter during World War I. At the wars end Costes would find himself promoted to 2nd Lieutenant after 6 confirmed victories on the Balkan front. Like many ex-military aviators, Costes was employed as an air mail pilot; first flying with Latecoere in 1920, he delivered mail along the Toulouse-Casablanca route.
In 1921 he flew the Bordeaux-Paris route before the Paris-London route with Air Union Airlines in 1923. These air mail jobs were highly coveted by aviators who often had to forge a career barnstorming and stunting in the post war years.
He went on to work as a test pilot with Breguet in 1925 before embarking upon a number of successful long distance flights. On October 28, 1926, Costes flew from Paris to Jask, Persia, to beat the word distance record. Costes and J. Rignot flew 3,351 miles in this impressive aviation first.
Even more impressive was Costes and Joseph Le Brix's around the world flight of 1927. From the 10th of October to the 14th of April 1928, they flew 35,652 miles in their Breguet 19GR named Nungesser-Coli. They set off from Paris and flew through Argentina, Brazil, the United States, Japan, India and Greece.
Upon reaching San Francisco they traveled through California where they crossed the Pacific Ocean by ship to Tokyo and then on to Japan. From Japan they continued on to French Indochina, India, French Syria and Greece before landing at Le Bourget Airport in Paris on the 14th of April 1928.
 They broke a further record during their round the world flight with the first non-stop aerial crossing of the South Atlantic Ocean. From the 14th to the 15th of October 1927, Costes and Le Brix flew across Saint-Louis, Senegal and Natal, Brazil. The Nungesser-Coli flew through every continent in South America.
Then came Costes and Paul Codos world distance record of December 1928. From the 15th-17th December, they flew 4,986 miles. Costes and Maurice Bellonte went on to once again set the world distance flying record with a journey from Paris to Qiqihar in 4,909 miles. Then came the career defining nonstop westward crossing from Paris to New York of 1930. The advances made since Lindbergh's seminal 1927 flight were astonishing.
For one thing, Costes was able to maintain radio contact throughout the flight. When Lindbergh made his New York to Paris flight, he speed through the skies at 287 m.p.h. whereas Costes flew at 357 m.p.h. in 1930. Municipal airports in the United States had grown from just 207 to 455, and yearly miles flown had grown from 12,000,000 to a staggering 150,000,000, recorded in the year before Costes flight. Both the technology and enthusiasm for aviation had developed at an incredible pace during these short 3 years.
During World War II Costes joined the fight as a flight instructor in Versailles. In the capacity of lieutenant colonel, he taught countless soldiers to traverse the skies, aiding the war effort immeasurably. Within his lifetime Dieudonne Costes was awarded the Legion of Honour, the Croix de Guerre and the Médaille Militaire.
The Fédération Aéronautique Internationale awarded him their prestigious Gold Medal in 1929 with the Harmon Trophy following suit within the same year. By special act of congress Costes was awarded the Distinguished Flying Cross from the United States in 1928. This was in recognition of his trailblazing, round-the-world flight of 1927.
Dieudonne Costes passed away on May 18, 1973, in Paris.  His Hour angle watch was seemingly kept in the family for a number of years, before surfacing at a smaller French auction house.  It eventually made its way to Phillips in May 2015 selling for 143,000CHF.
Longines – The Watch Auction: One Geneva Lot 86 May 2015 | Phillips
Costes will always be remembered for his relentless drive to push aviation toward its full potential; he broke and set records time and time again and urged aviation into the 21st century.  His vintage Hour-angle watch like so many vintage pilot watch pieces and the characters who wore them speaks of a time when aviators and aviatrix had different priorities on a flight and depended on a tool watch as an avigational aid. This piece has quite a story to tell.
Footnote
[1] Correspondence extracts in 1930-31 between Lindbergh and John Heinmuller.  Longines through Time The story of the watch Stephanie Lachat p116
Bibliography
Anonymous, 'Air Progress from Lindbergh to Coste,' Popular Science Monthly, Vol. 117, No. 5 (Bonnier Corporation, November 1930).
---
[1] Anonymous, 'Air Progress from Lindbergh to Coste,' Popular Science Monthly, Vol. 117, No. 5 (Bonnier Corporation, November 1930), pp. 43.
[2] Anonymous, 'Air Progress from Lindbergh to Coste,' Popular Science Monthly, Vol. 117, No. 5 (Bonnier Corporation, November 1930), pp. 42.