Lieutenant Paul Codos was an experienced pilot who championed commercial aviation in France. He was a decorated war veteran and the first aviator to cross the North Atlantic in both directions. Born on May 1st, 1898 in Iviers, Aisne Department, this French aviator went on to achieve international recognition as an exceptional pilot. A member of the Longines Honor Roll, Codos would go on to many records in aviation.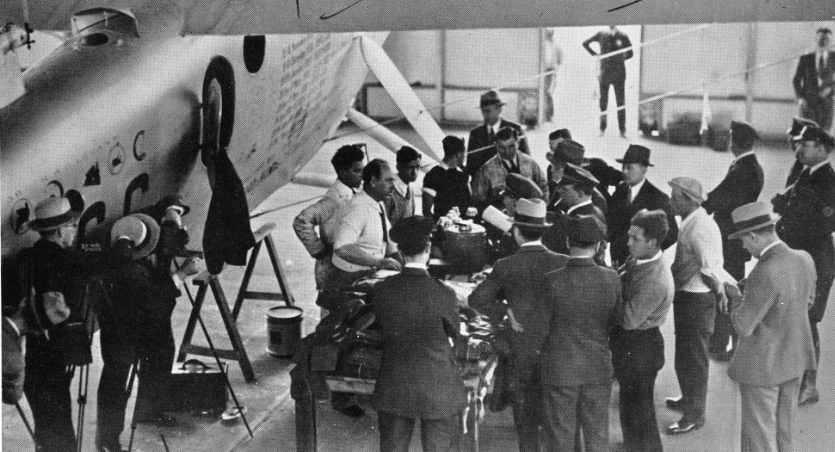 World War I
Upon the outbreak of WWI, Codos volunteered for duty and was assigned as a runner and liaison officer. Within 4 years he rose to the rank of lieutenant and was awarded the Medaille Militaire and the Croix de Guerre. These were awarded for acts of bravery and heroism in the face of an enemy force. The Medaille Millitaire is the third highest award offered by the French Republic.
In the post war years, with a passion for flying, Codos and mechanic Louis Agnus embarked upon the first night time commercial flight. They traveled from London with the stars to guide the Farman biplane, Goliath, toward a touchdown in Paris.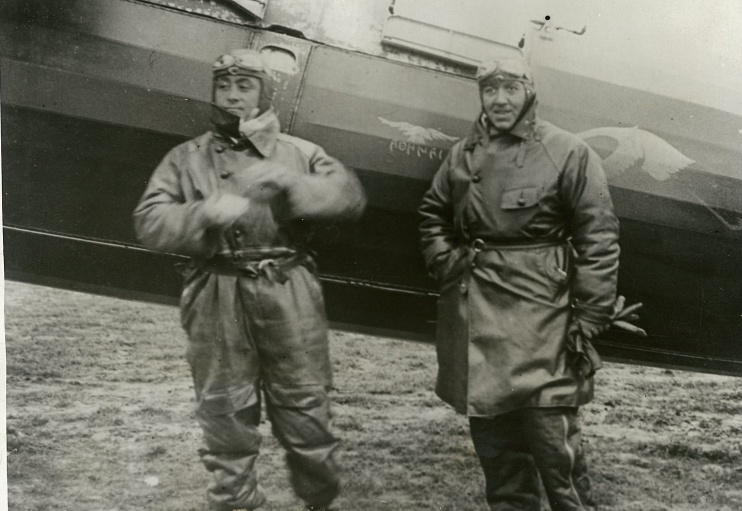 Keeping up the momentum, Codos broke another record on December 17th, 1929 in the Br.19 TR Hispano, named Point d'Interrogation, (The Question Mark). Codos broke the world distance record, in a closed circuit flight with, 5,000 miles covered in 52 hours and 40 minutes.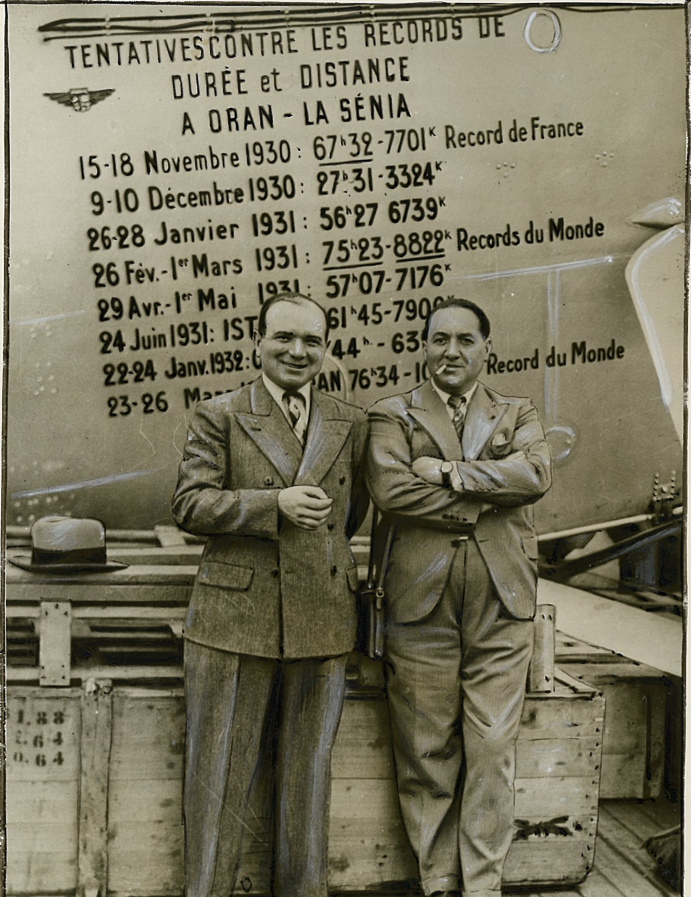 In the January of 1932 Codos and Henri Robida set a new speed record with a flight between Indo-China and France. They had covered 6,844 miles, on board a Breguet 33 aircraft, in just 2 days and 23 hours.
After hearing of these flights, and the skill with which they were executed, Maurice Rossi enlisted his help for another record breaking adventure. Codos was seen to be 'one of the world's outstanding men in the handling of big planes and heavy loads,' it was this particular ability that had caught Rossi's attention. 
Joseph Le Brix crosses the Atlantic Twice
Thus began Codos' career defining journey of 1933. In their big Bleriot monoplane, Joseph Le Brix, the two aviators aimed to set a new distance record from New York to Rayak, Syria.
After months of careful preparation they took off from Floyd Bennet Field on August 5th, 1933 with ease. It is recalled that for 'the first time in American aviation history, a so-called "dolly," two wheels on a board chassis, were used in take-off to keep the plane in flying position.
Within 26 seconds the heavily loaded craft left the ground at high speed and the "dolly" dropped off like an under-carriage, permitting the ship to gain its momentum for altitude.'[1]
They used plenty of navigational and fuel consumption instruments but relied chiefly on the sun and moon for directional purposes. Codos and Rossi 'resorted to the more primitive method of spotting their course from hour to hour in accordance with the sun and moon position.'[2]
As an early aviator it was important to understand such a means of direction finding. It was possible that the often experimental equipment would fail mid-air.
After a quick wave to awaiting crowds and wives close to Le Bourget, France, the Joseph Le Brix soared once again to high altitude in order to continue the epic flight. They encountered some unfavorable weather before landing successfully in Syria. They had set a new non-stop distance record with 5,657 miles in 56 hours.
Their chief issue during the flight had been in gauging fuel consumption. There had been a few hairy moments where they half expected not to make it. Flying over Europe they '"nursed" the engine along, using every known means to obtain the utmost power out of the gasoline steadily draining from the tanks.'[3]
Codos and Rossi had made it with little fuel to spare.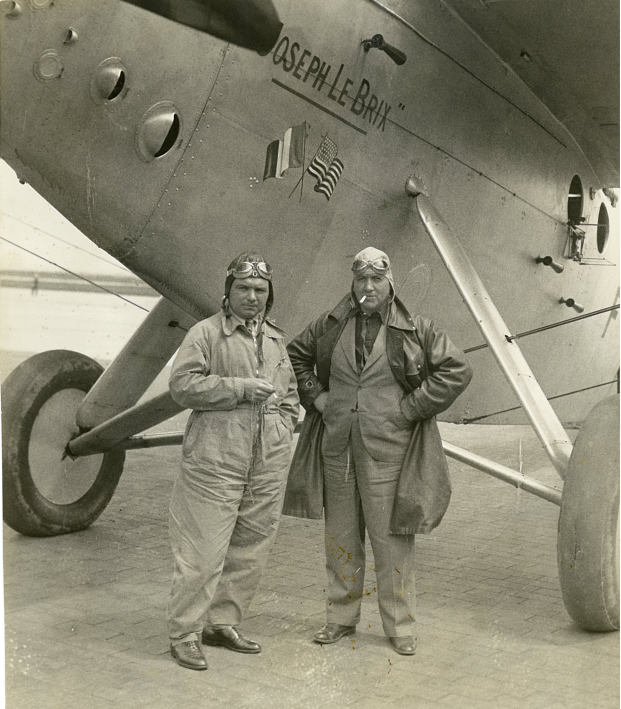 They attempted to beat this record in 1934 with a flight from Paris to South America in 8,000 miles. Poor weather conditions altered their plans and they instead aimed for San Diego, California. Setting off on May 25th 1934 all was well until, mid-way over the Atlantic, Joseph Le Brix began to shake so violently that they feared the plane would fall apart. They continued on with this dangerous defect for 1,600 miles before they were forced to land in New York.
Upon landing it was discovered that a propeller blade was badly damaged, sufficient to throw the blades out of balance, a dangerous predicament. They dumped 800 gallons of fuel during landing and despite major worries over their safety, made it onto the airfield without difficulty.
Despite not covering the intended distance, this flight would recognize them as the first aviators to fly the Atlantic in both directions. They received a tremendous welcome in New York and were decorated by President Franklin Roosevelt. A good will tour was organized for the two pilots, visiting French communities across America and Canada.
Codos served in the Second World War and died on January 30th, 1960. He made incredibly valuable contributions to aviation all of his life and was sorely missed by friends and colleagues.
Footnotes
John P.V. Heinmuller, 'XIV Paul Codos and Maurice Rossi', Man's Fight to Fly, (New York: Aero Print Company, 1945), pp. 194.
John P.V. Heinmuller, 'XIV Paul Codos and Maurice Rossi', Man's Fight to Fly, (New York: Aero Print Company, 1945), pp. 193.
John P.V. Heinmuller, 'XIV Paul Codos and Maurice Rossi', Man's Fight to Fly, (New York: Aero Print Company, 1945), pp. 195.
Bibliography
Heinmuller, John P.V.  'XIV Paul Codos and Maurice Rossi', Man's Fight to Fly, (New York: Aero Print Company, 1945).