Weems stated, "It is perhaps fortunate that timepieces were developed before radio, or else extremely accurate timepieces would probably never have been made". [1]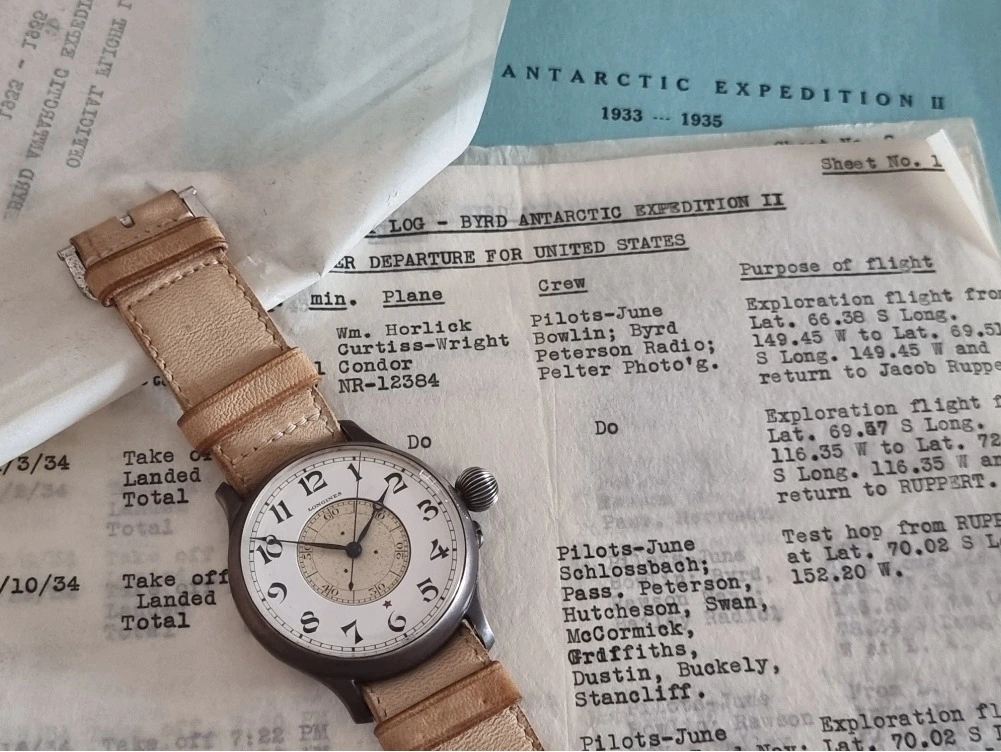 Longines won more precision timing and accuracy awards than any other maker from the four great observatories of the world –  London's Kew-Teddington, the US Naval in Washington and those in Neuchatel and Geneva.
Aircraft calottes and hand held chronometers regulated for sidereal time were already made by Longines and other makers. However, the needs of celestial avigation would lead to the very first sidereal time wristwatches.
Longines can claim another first in this space with the large Weems and the Hour-angle being the first two.
Watches adjusted for sidereal time were used as a pair, for special missions with the other watch adjusted to civil time. Wiley Post and Harold Gatty used a pair of Weems adjusted in this manner, creating history with their record breaking round the world flight in 8 days, 15 hours, and 51 minutes in June 1931. 
In Weems Air Navigation book he notes, "Two avigation watches are ordinarily used in celestial avigation, one keeping civil time, and the other keeping sidereal or star time." [2]
Heralding from the latin word 'sidus' meaning star, sidereal time essentially meant Star time, with a day measured according to the so called 'fixed stars', not set to the sun but relative to the other stars.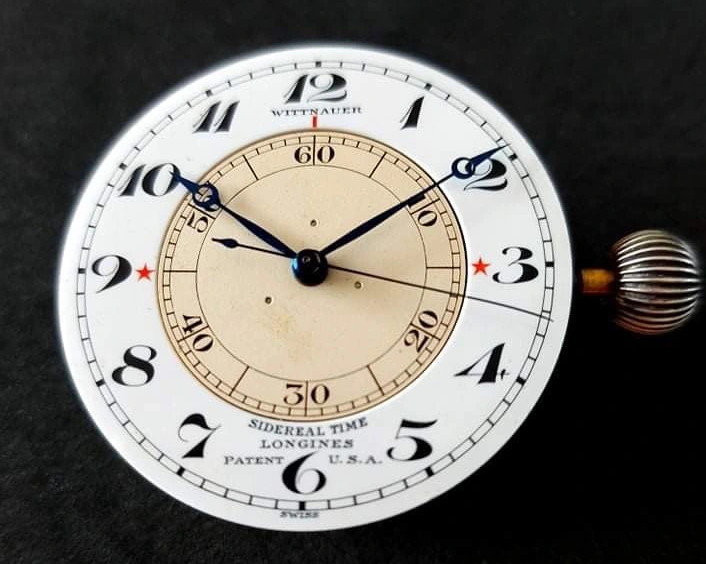 Sidereal time watches were regulated slower by 3min 56.6 seconds, with any adjustment noted in the archive for both Lindbergh and Weems models.

United States military celestial training schools run by Weems, Gatty et al in locations across America, including Maryland and San Diego taught large numbers of female navigators for the US military.  These navigators existed in any of the following American military units WAVEs, WASPs and WACs who were often working in Ferry command.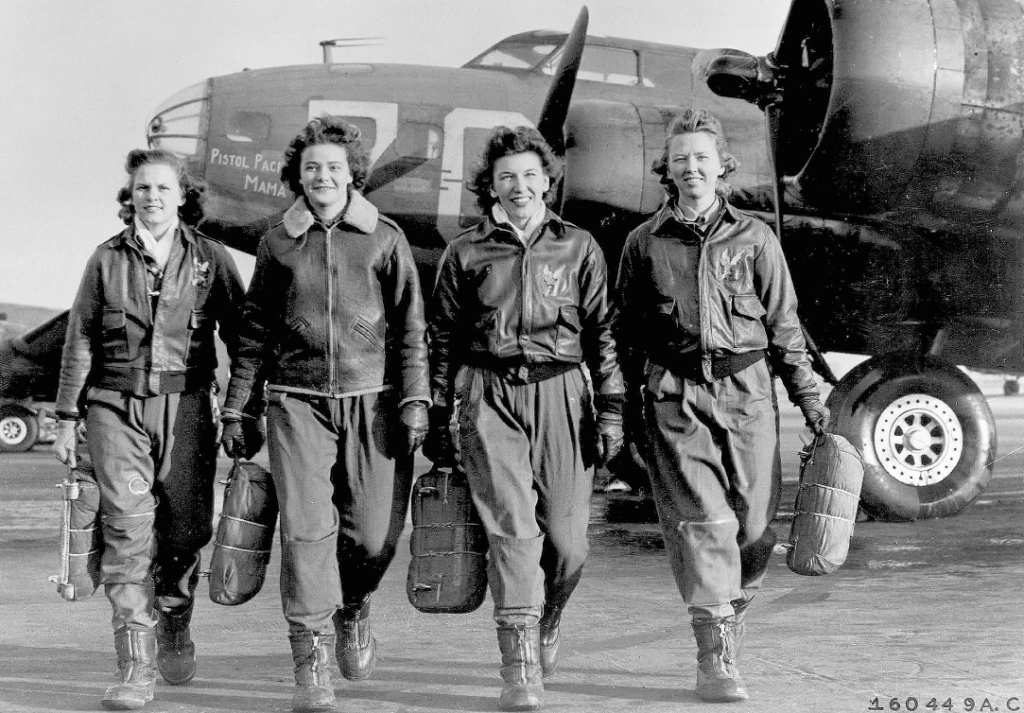 Amy Johnson, the first lady to fly from England to Australia noted that Weems was the best teacher in the world for celestial navigation on long flights.  She had been making meticulous plans in 1937-39 for a round the world flight before war broke out.  She immediately signed up for RAF Ferry Command, and in tragic circumstances, bad weather led to her landing in the Thames on Jan 5, 1941 and she was likely run over by the rescue vessel.
Each and every timepiece specially ordered and regulated for sidereal time is recorded within Longines archives.


On October 25, 1932, they started to use a single red star on the dial of the Weems models to indicate the sidereal adjustment.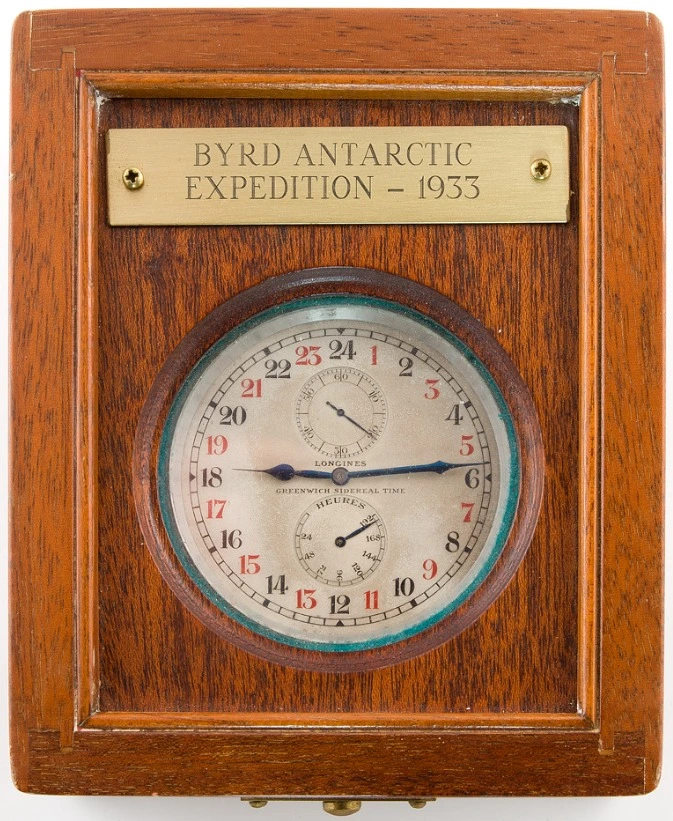 Longines Hour-angle pieces regulated for sidereal time had no dial notation because of their more complex dials leaving little room for notations.
The large 47mm Weems pieces came with the following dial configurations below. This was changed a couple of times over their small window of operation.
a normal dial (cal 18.69N) on Hour-angle pieces.
a single red star at six (silver case cal 18.69N only)
sidereal time text only (silver case cal 18.69N only)
sidereal time text plus two red stars at three and nine (silver or steel case 18.69N or 37.9/37.9N)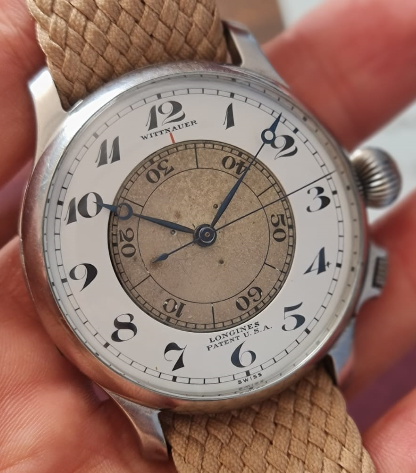 A small handful of steel sidereal time two star pieces per order #20852 were delivered April 1940 to Wittnauer, the ultimate customer, the Imperial Japanese Navy (IJN). Interestingly, the very next order #20853, also for the IJN, notes delivery of Weems watches regulated for Civil time.
Paradoxically, both were most likely used by Mitsuo Fuchida's officers and pilots in the lead up to, and possibly the attacks on Pearl Harbour in December 1941.
Today, the sidereal time piece of Weems himself with two stars lies as an exhibit in the Smithsonian.
Just a handful or two of all dial combinations are known to remain. For those pieces originally born with stars, many have sadly been removed over the years.
The author opines that possibly fear of some communist association during the McCarthy years in the 50's and beyond accounted for the red star removal. 
America had little need for specialist skilled celestial navigators due to the number of radio stations and beacons.
In the leadup to World War II, these "airways" would soon cover the world and rapid advancements in air navigation technology, including radar and other military equipment negated the need for specialist sidereal time skills.  
Today, phones have a GPS and most people could not even read a paper map nor in many cases know what one is.
Seemingly, the US Navy has recognized that and plans are afoot to train recruits for using real navigational skills again in the event of a world or their ship possibly going dark.
US Navy reintroduces celestial navigation to counter cyber attacks – Naval Technology (naval-technology.com)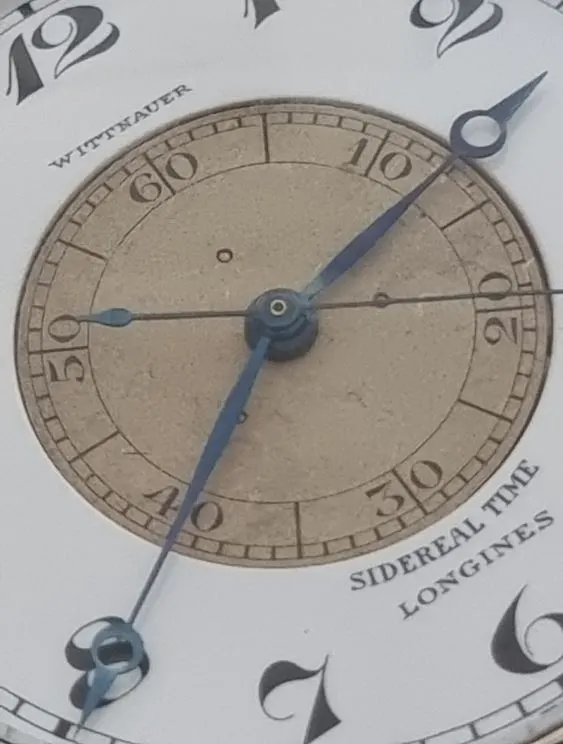 Perhaps a 1930's Longines sidereal time watch will serve one well if (or when) the world does go dark!! Given the caliber of world leaders, and behind the scene string pullers, then it is a far surer bet than Knackery Lad in the 5th, at Flemington.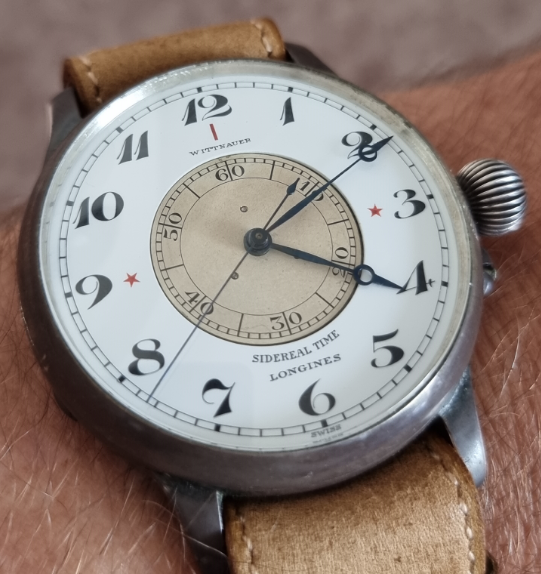 ---
[1] Air Navigation Weems 1931 first edition p399
[2] Air Navigation Weems 1931 first edition p362