One of Italy's most accomplished pilots and the man credited with rebuilding the Regia Aeronautica (Italian Air Force) was Italo Balbo. Rising swiftly through the ranks of the Fascist party, he first became Commander in Chief of the Militia in 1922, was promoted to Undersecretary of the Air Force in November 1926, and General of the Air Fleet on August 19, 1928.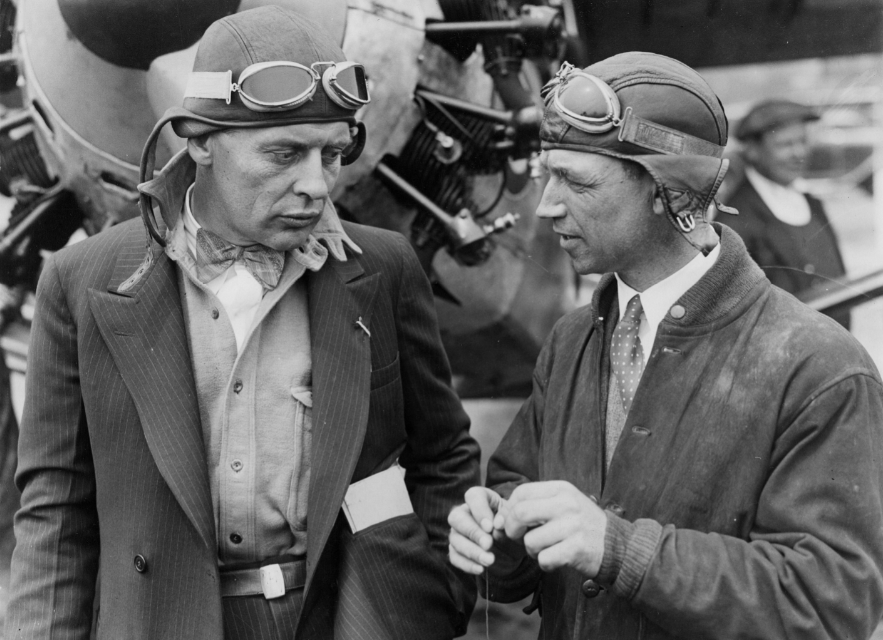 Whilst fascinated with the progress of aviation during the 1920's, he knew little about flying before becoming the Air Minster on September 12, 1929.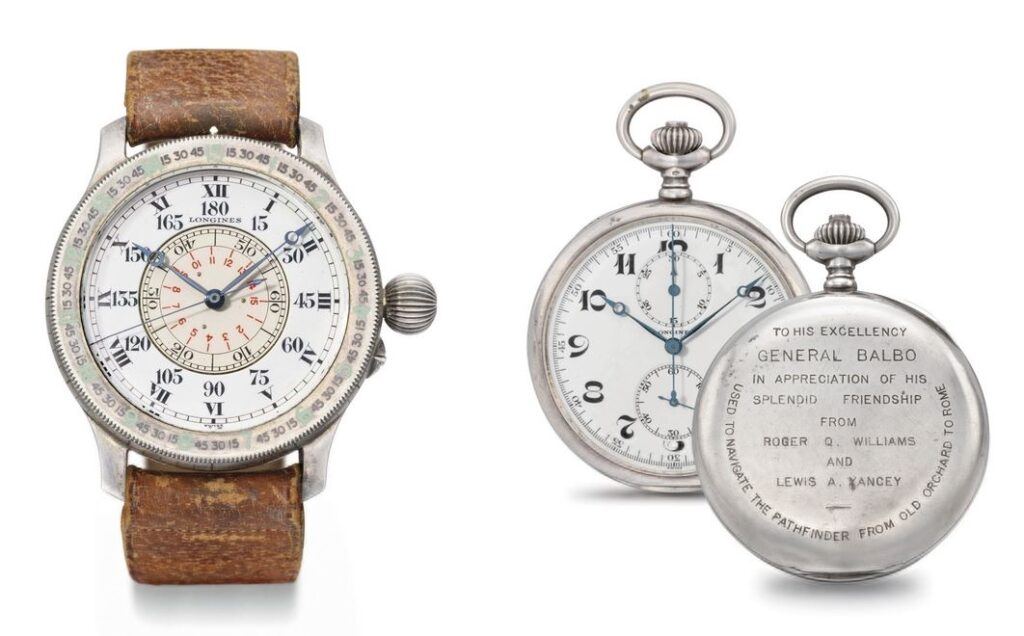 His aviation endeavors and pursuits outside of war earned him praise and the attention of many of the who's who of this golden time. In 2011, Christies auctioned two Longines flight watches belonging to Balbo's estate.
Longines. A lot of two rare and historically interesting silver timepieces, comprising one oversized hour angle Aviator's wristwatch with indirect sweep centre seconds and one openface keyless lever chronograph watch, the wristwatch reputably presented to Air Marshal Italo Balbo by Charles Lindbergh, the chronograph watch by Roger Williams and Lewis Yancey (christies.com)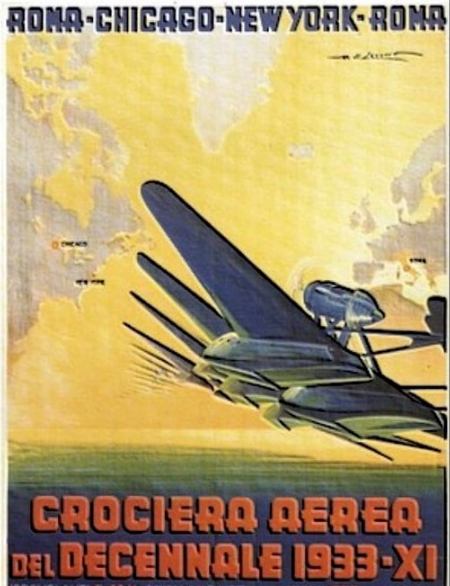 The first, a steel 52mm pocket watch 19.73N chronograph with a pusher in the crown, had a matching movement and case number 2980509, and was made by Longines in 1927. The piece had been used for navigation on the incredible flight of the Pathfinder from Old Orchard beach in Maine to Rome in 1929.
  The flight had been made by aviation greats Roger Q. Williams and Lewis A. Yancey. The back read 'To His Excellency General Balbo in appreciation of his splendid friendship from Roger Q. Williams and Lewis A. Yancey, encircled by inscription Used to navigate the pathfinder from Old Orchard to Rome'
The other, a famous Longines Lindbergh Hour-angle watch supposedly gifted to Italo Balbo by Lindbergh himself. The watch a first generation all silver Hour-angle watch was manufactured in 1935 with serial number 5272672. Inside, a nickel silver 18.69N calibre, an all silver calibrated bezel inlaid in with green and black divisions for the unit of arc markings and breguet hands.  
The date and meeting of Lindbergh and or his representative with Italo Balbo are unknown but their fame, and shared aviation interests likely ensured this a certainty.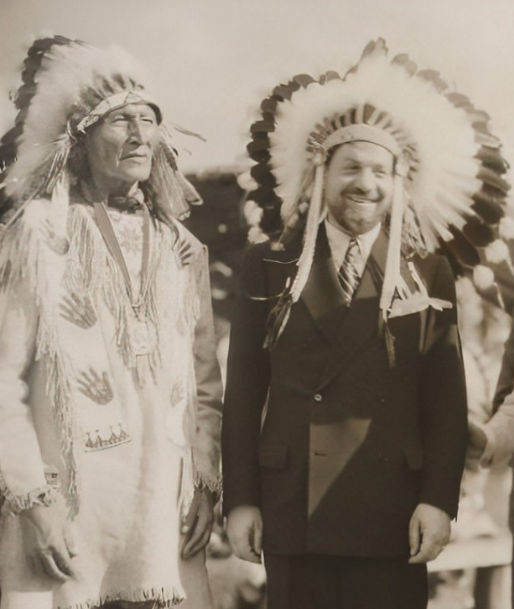 It is highly likely Balbo received them for very good reason, given his own popularity, aviation interests, pursuits, and accomplishments with the Regia Aeronautica. Soon after becoming Air Minister, he became an accomplished pilot and reinvigorated the Italian Air Force. Italy went on to hold international speed and distance records despite playing catchup in the aviation space. Balbo built a "speed school" near Lake Garda, pushed high elevation flight training in the squadriglie d'alta quota (high quota fliers) and was a pioneer in developing the concept of intercontinental flights.
His first achievement in the latter, a 29-day journey ending January 15, 1931 involving twelve Savoia Marchetti S.55X planes flying 10400 km from Orbetello, north of Rome, to Rio de Janeiro. The second Italian transatlantic formation flight in 1933 was described in Balbo's book My Air Armada and set-out from Rome bound for Chicago during the World's Fair.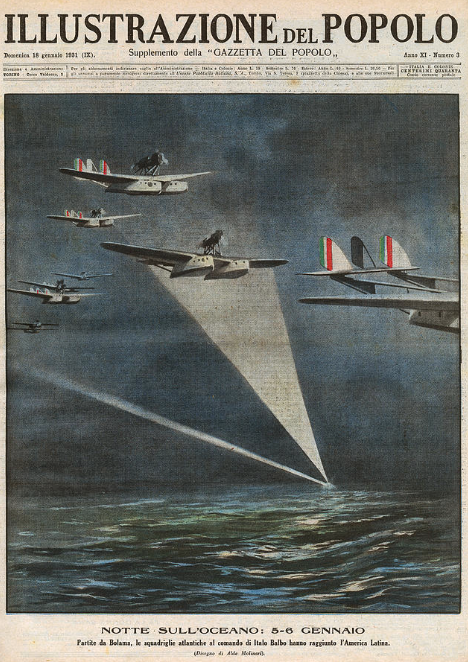 The flight attracted worldwide attention, with Balbo and his Italian flying unit greeted as heroes. The Chief Sioux Indian leader gave him the title of "Flying Eagle", and President Roosevelt extended a lunch invitation. A Chicago street was named after him, remaining contentious to this day.
Upon his triumphant return to Rome he was elevated to rank of Air Marshal before military disagreements saw him deployed as Governor of Libya until the outbreak of WWII. He was extremely disappointed with the German invasion of Poland and rushed to Rome, disagreeing and falling out with Mussolini over his stance and warmongering policies.
Balbo, popular among the troops, was against war with the British. He was devoted to Maria José, the Princess of Piedmont who also opposed and despised Mussolini. Balbo's fallout with Italy's leader quite likely cost him his life, after a "friendly fire" incident.
His plane was shot down June 28, 1940, in Tobruk, by an anti-aircraft gun aboard the Italian cruiser San Giorgio, with debate raging about how such an incident could happen unless specifically ordered.
A charismatic and famous legend, Balbo was praised by friends, enemies and supposed foe. Both England and America celebrated his life and death despite their war rivalries.
Regardless of your views on all of the events of WWII, he was against war and was a central figure in early Italian aviation successes.
Seemingly once again, Longines played a role in this great aviation visionaries pursuits, endeavors, Italian aviation and the concept of intercontinental flights.