Jack Lambie
After Dick Merrill's famed 1936 "Ping Pong Flight" fell short of its intended destination, Merrill realized that he needed an experienced and reliable navigator and co-pilot for a second attempt. The chosen co-pilot and Navigator, Jack Lambie, was an Army pilot from 1933-36, before joining Eastern Airlines and meeting Merrill.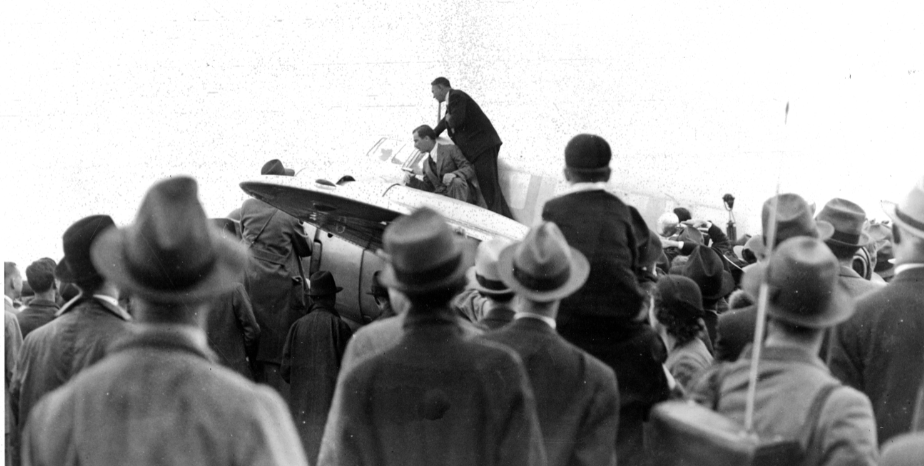 Born in the Philippine Islands to an U.S. Army surgeon, Lambie's aviation career would see him making a round-trip transatlantic crossing in a famed flight. He even went on to star in a movie documenting the adventure. For these and many more adventures, Jack Lambie belongs on the Longines Honor Roll.
This seminal flight threw Lambie into the spotlight as an experienced pilot and navigator. Before the flight, both men made meticulous preparations and Lambie was sent to P.V.H. Weems in order to learn new techniques in celestial navigation.
Weems was a pioneer of his time, sought after by the Lindbergh's and admired by great navigators like Harold Gatty. His techniques were revolutionary and are still taught today.
These early aviators could not wholeheartedly rely on any technology or equipment, experimental and temperamental in nature. If all was to fail then it was necessary to find their bearings with a watch, the sun, horizon and stars.
It is true today that no matter how advanced our technology may be, it is fallible, and necessary to understand the tried and tested means of celestial navigation. With the learning gained from Weems, along with extensive mapping and the instruments required, they were ready.
The flight would be known as the "Anglo-American Goodwill Coronation Flight," so named after the coronation of King George VI after the abdication of King Edward VIII.
They were to carry newspapers and pictures of the coronation back to the U.S. as well as newly issued postage stamps to mark the occasion. 'It was a worthy conception from the standpoint of public relations and international amity.'[1]
Lambie and Merrill took off from New York on May 8th, 1937 in a Lockheed Model 10E Electra named Daily Express. They had a difficult take-off during their return journey. A terrible rainstorm at South Beach Liverpool, pinned the Daily Express to the runway as she struggled to heave herself into the air.
They eventually lifted the plane from the runway with great skill and proceeded to New York with little mishap. The flight from Liverpool set a new East-West flight record, with a time of 24 hours and 22 minutes.
The flight to London and back took just 5 days beating Merrill's "Ping Pong Flight" of 1936 and achieving the intended objective. This journey was a great success for Merrill and Lambie, setting a new record for the two aviators.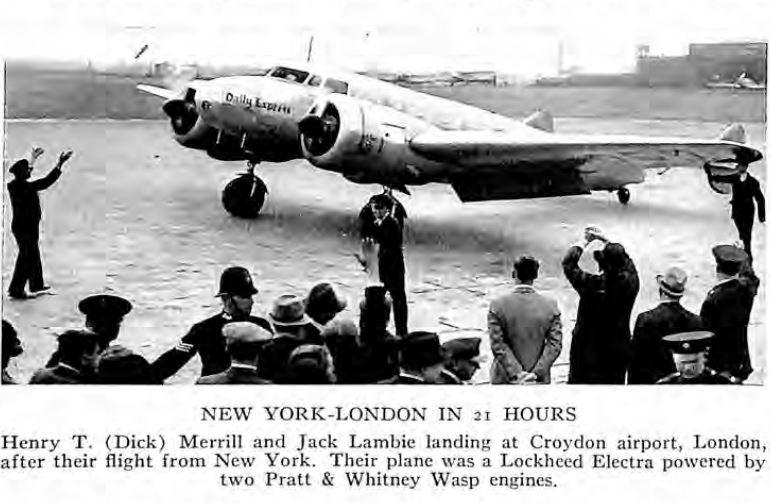 Heinmuller remarks that 'the precision of their performance on that occasion ranks the flight, in my opinion, with the greatest of the Atlantic flights.' [2] Lambie co-stars in the 1937 movie Atlantic Flight with footage documented throughout their adventure.
On May 25th, 1943, Lambie, Heinmuller and Merrill discussed these early pioneering flights, remarking that,
It was difficult for us to realize, as we sat there talking about a flight of only a few years ago, that already the Atlantic Ocean was being crossed many times daily; that in other directions, across great seas and over tremendous land distances, giant flying ships were coursing the skies in a routine and efficient manner that made us wonder why it had seemed so hard in the beginning.
But it was the early pioneer flights mapped out and accomplished by daring air adventurers which made possible the tremendous progress of these last few years.[3]
It is thanks to these early pioneers that such routine commercial flights are both available and safe today. Without the contributions of aviators like Lambie, this could not be possible.
Lambie served in the Ferry Command throughout WWII, returning to Eastern Airlines after the war. Lambie retired as Captain, Director of Operations Training in the 1970s after countless commercial flights with the company.
Footnotes
John P.V. Heinmuller, 'XV Henry T. (Dick) Merrill and Jack Lambie', Man's Fight to Fly, (New York: Aero Print Company, 1945), pp.207-208.
John P.V. Heinmuller, 'XV Henry T. (Dick) Merrill and Jack Lambie', Man's Fight to Fly, (New York: Aero Print Company, 1945), pp.205.
John P.V. Heinmuller, 'XV Henry T. (Dick) Merrill and Jack Lambie', Man's Fight to Fly, (New York: Aero Print Company, 1945), pp. 205-206.
Bibliography
Heinmuller, John P.V. 'XV Henry T. (Dick) Merrill and Jack Lambie', Man's Fight to Fly, (New York: Aero Print Company, 1945).