During this Golden Age of aviation Lucky Dick Merrill was known as a prestigious aviator; recognized as a meticulously skilled pilot and known worldwide for his famous 1936 "Ping Pong Flight." At a time when crashes were fairly regular, Merrill was famed for ensuring the safety of his passengers. Merrill was a teetotaler in an age when hard drinking fun loving pilots were the norm. Because of his style and luck Merrill was destined to be a member of the Longines Honor Roll.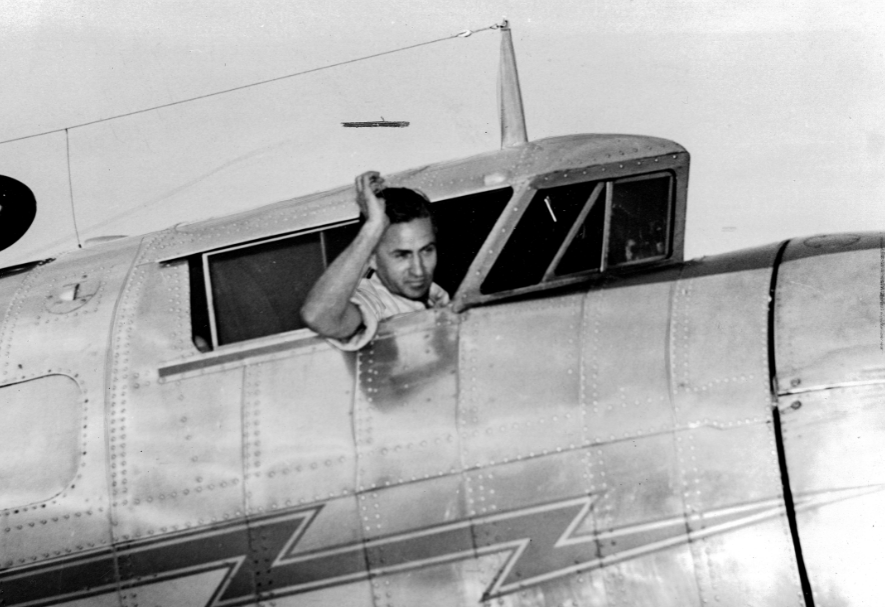 Merton Meade recounted an anecdote to this effect, that summed up Merrill's flying "luck."
I'd rather be lucky than good
"Dick often said he'd rather be lucky than good." When Eddie Rickenbacker owned Eastern he always insisted on Dick flying the airplane whenever he had to travel.
Dick always told this story: 'But Captain, you've got a hundred pilots on the line better than me.' 'I know, Merrill, but you're the luckiest son of a bitch I've got, and I'd rather fly behind a lucky pilot than a good one any day!' Typical self-effacing comment by Dick… I doubt there ever WAS a better airline pilot than Dick Merrill.[1]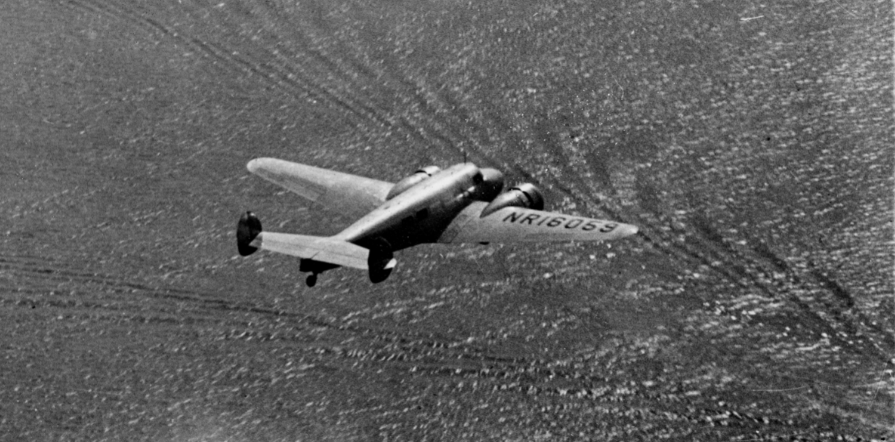 The one blemish on his career
His perfect record was only slightly tarnished in 1948 when, at 10,000 ft off the Florida Coast, Merrill saved the lives of 69 people. While working as a senior pilot with Eastern Air Lines a propeller on an EAL Constellation ripped through the fuselage. A steward was killed instantly and the passengers were thrown into a state of disarray.
Merrill was often credited with a calm and composed manner. He immediately jumped into action and skillfully managed the in-flight disaster. While emerging a hero, he was nevertheless dismayed at the black mark on an otherwise untarnished record. The only injuries sustained were Merrill's own during this masterful landing. 'For some weeks he lay in the hospital recovering, and grumbling about what he considered to be a blot on his record. But he was called a hero by the unharmed passengers and members of his crew.'[2]
The Early Days
Born in Iuka, Mississippi, February 1st, 1894 Merrill would go on to become one of the most respected aviators of his time. He began his career in aviation with a Curtiss JN-4 Jenny in 1920 and performed at air shows throughout the 1920's. He tried his hand at barnstorming with the Ivan Gates Air Circus around this time. Dick Merrill more than earned his position on the Longines Honor Roll.
Turning Commercial
Merrill then turned to commercial aviation, becoming an air mail pilot in the Richman, regularly flying a night route to Atlanta. By 1930, he held the record for flying the longest cumulative distance, considerably furthering both his career and pay check with the air mail service.
He was regarded as a deliberate and skilled pilot, well known for his safety, boasting a clean record with no crashes. Merrill was so well regarded that many celebrities requested his services as a pilot when traveling by air. Both Walter Winchell and General Eisenhower were ferried around by Merrill. Characteristically modest, he would continually maintain that his success was down to luck rather than skill.
The Ping Pong Flight
1936 would mark the year of Merrill's career defining "Ping Pong Flight." Strangely eccentric for a man who was known to be somewhat serious, the empty spaces in the wings and fuselage were filled with 41,000 ping pong balls. This idea, devised to help the plane float should they crash land at sea, was devised by millionaire Singer Harry Richman.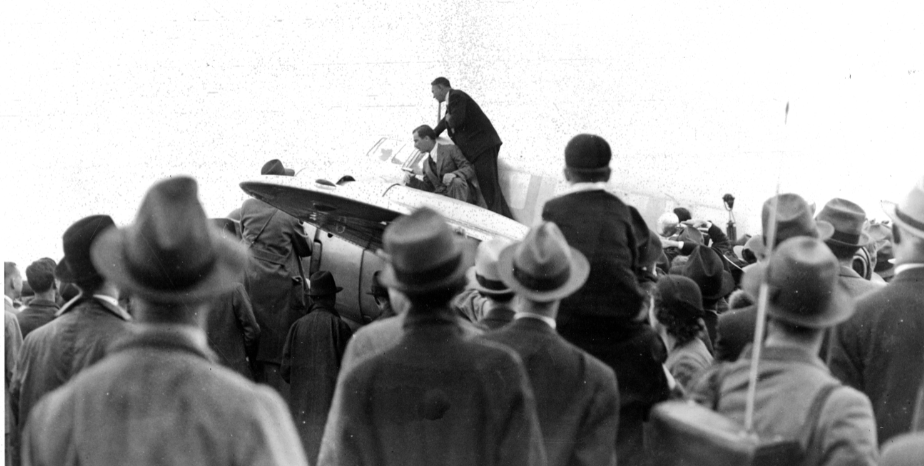 Merrill, unable to finance the transatlantic flight, looked to Richman, declaring that they "take the plane to Europe… then we'll gas her up and fly her back. It's never been done."[3] With this, Richman who had recently received his pilot's license, was sold on the idea.
The two pilots set about modifying a Vultee V-1A for the record breaking flight. They sourced the most up to date equipment, including the Hooven Radio Direction Finder. Merrill meticulously prepared for the flight, knowing that his co-pilot was fairly inexperienced and that he would be expected to do most of the heavy lifting throughout this arduous long distance journey.
They were an odd pair, with Merrill the serious professional and Richman the flamboyant celebrity. Merrill conceded to the Ping Pong idea which proved to be an ingenious marketing device. For years after the flight, Richman sold signed copies of these famed ping pong balls.
The quirky pair set off from New York on September 2nd, 1936, running into bad weather off the coast of England. They were 600 miles away from the coast and were forced to land in Llandeilo, Wales. This was just 175 miles from their intended finish line. They had traveled this extraordinary distance in 18 hours and 38 minutes before jetting home on September 14th with the newly christened Vultee V-1A, Lady Peace. They had set a new speed record for the flight from New York to Wales.
Oops – He dumped the fuel
During the return flight Merrill was dismayed as Richman, in a moment of panic, dumped 500 gallons of fuel.
At this moment Merrill knew that they would not have insufficient fuel to journey to New York as intended. This strained their relationship, as such meticulous planning by Merrill meant little when faced with a flighty and impulsive co-pilot.
Merrill was forced down at a soft bog in Musgrave Harbour in the Dominion of Newfoundland. They stocked up on fuel and made a few repairs before jetting off to New York. They arrived a week later.
John P.V. Heinmuller recounts that 'We who had followed closely the careful preparations made by Dick Merrill for this adventure were sorry to see it fail in its ultimate objectives, for we felt that it had been efficiently planned and prepared, and deserved success.'[4]
Anglo-American Goodwill Coronation Flight
Jack Lambie and Merrill repeated the flight in 1937, at the request of Hearst Publishing. Flown in a Lockheed Model 10E Electra named Daily Express, the flight would be known as the "Anglo-American Goodwill Coronation Flight." So named for the coronation of King George VI after the abdication of King Edward VIII. This epic journey from New York to London took place from May 8 to 14 and would be recognized as the first transatlantic round trip flight.
The record breaking, round trip flight was made in just 5 days with the aid of experienced aviator Lambie, who displayed great skill and professionalism throughout the trip. Merrill was awarded the Harmon Trophy for this achievement and he went on to star in the 1937 movie, Atlantic Flight from documentary footage captured during the adventure.
Merrill went on to make two further transatlantic flights. On May 14th, 1937, Merrill set a new transatlantic record of 24 hours. The drastic cutting of his previous time shows just how quickly planes, technology and knowledge of aviation was developing and advancing. On May 25th, 1943, Lambie, Heinmuller and Merrill discussed these early pioneering flights, remarking that,
It was difficult for us to realize, as we sat there talking about a flight of only a few years ago, that already the Atlantic Ocean was being crossed many times daily; that in other directions, across great seas and over tremendous land distances, giant flying ships were coursing the skies in a routine and efficient manner that made us wonder why it had seemed so hard in the beginning.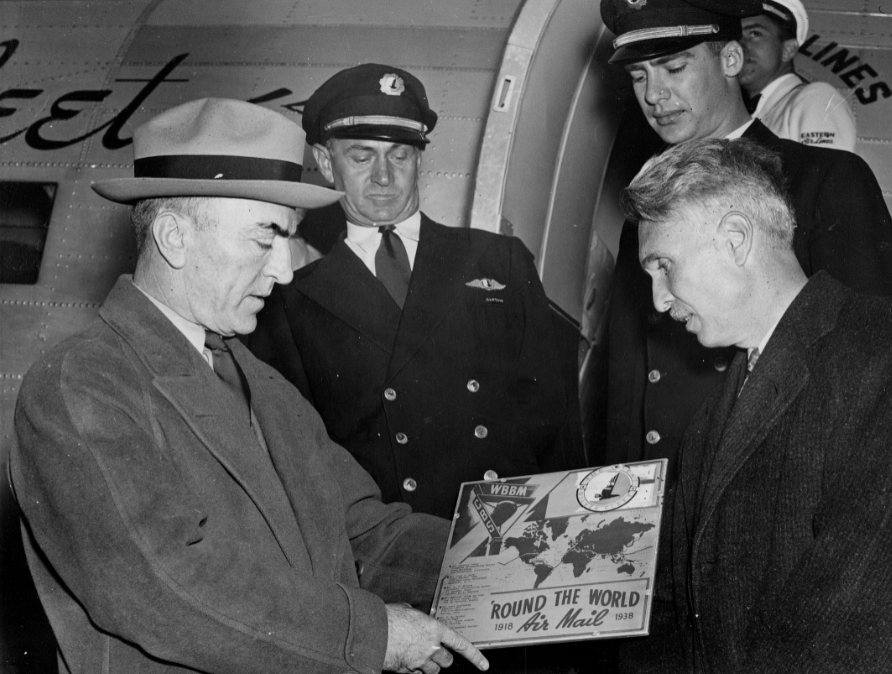 But it was the early pioneer flights mapped out and accomplished by daring air adventurers which made possible the tremendous progress of these last few years.[5]
It is true that we owe much to these early trailblazers who paved the way for the commercial flight we know and love today. These men mapped the unknown skies, often giving their lives in the pursuit of international travel. Living now in an interconnected world, where the opportunities and possibilities are endless, where different countries, cultures and citizens are reachable; we have been propelled, through flight, into the modern age. This is due to the endless contributions of early aviators such as Merrill.
World War II
While not a commissioned officer during the War, due to his old age, Merrill did sign on as a civilian pilot. He was given the China Burma India route. He would fly DC-3/C47 Skytrains and C-46 Commandos over the top of the world. Flying the "Hump" as it was known, bringing supplies from India and Burma to troops in China. This route was very dangerous, crews faced Japanese fighters, unpredictable weather and little to no radio beacons/direction finders while in the air. On the ground, there was a shortage of trained personnel, poor equipment, and airfields that were often wiped out by the monsoons.
Post War
After the War Merrill returned to work with Eastern Air Lines. In the 1950s, he flew then Presidential candidate Dwight D Eisenhower during campaigning for the '52 election.
After this he again returned to work with Eastern airlines where in 1948, off the coast of Florida at 10,000 feet a propellor tore off an EAL constellation, killing the steward instantly. Merrill through his calm manner and experience was credited with helping the crew nurse the plane back to a military airfield in Brunnell Florida, and saving 69 people during the in-flight disaster.
His final commercial flight took place in 1961, after flying a Douglas DC-8 from New York to Miami. It is reported that at the end of his career, Merrill had flown the longest cumulative distance of any pilot in commercial aviation history. He had logged 36,650 hours of flight with Eastern Airlines during his 33 years there.
Merrill continued to fly well into his 80's. Astonishingly, he continued to set aviation records well into retirement. In 1966 he set a new speed record in a Lockheed L-1011, flying at an average 710mph. He embarked on a round-the-world flight with actor Arthur Godfrey in the same year. Merrill, for all he had contributed to aviation, was awarded the FAI Gold Air Medal in 1970.
He died at the age of 88, leaving an astonishing legacy of air bound adventure. On October 31st, 1982, he passed away with his loving wife by his side. She would spend the rest of her life proudly promoting Merrill's accomplishments.
Footnotes
Ralph Cooper, 'Henry Tyndal Merrill, 1894-1982: AKA Henry 'Dick' Merrill,' earlyaviators.com, (October 13, 2009), http://www.earlyaviators.com/emerrill.htm (date accessed: 02/09/16).
John P.V. Heinmuller, 'XV Henry T. (Dick) Merrill and Jack Lambie', Man's Fight to Fly, (New York: Aero Print Company, 1945), pp. 206.
'Harry Richman,' IMDB, http://www.imdb.com/name/nm0725030/bio (date accessed: 02/09/16)
John P.V. Heinmuller, 'XV Henry T. (Dick) Merrill and Jack Lambie', Man's Fight to Fly, (New York: Aero Print Company, 1945), pp. 204.
John P.V. Heinmuller, 'XV Henry T. (Dick) Merrill and Jack Lambie', Man's Fight to Fly, (New York: Aero Print Company, 1945), pp. 205-206.
Bibliography
Anonymous, 'Harry Richman,' IMDb, http://www.imdb.com/name/nm0725030/bio
Cooper, Ralph 'Henry Tyndal Merrill, 1894-1982: AKA Henry 'Dick' Merrill,' earlyaviators.com, (October 13, 2009), http://www.earlyaviators.com/emerrill.htm
Heinmuller, John P.V.  'XV Henry T. (Dick) Merrill and Jack Lambie', Man's Fight to Fly, (New York: Aero Print Company, 1945).