The "Spirit and Scope of my invention" are the words Philip Van Horn Weems used within US Patent application 2008734 when he applied for 'Method of and Apparatus for Navigator's timekeeping' on the 31 July, 1929.
The very first Longines Weems, had already been delivered to Wittnauer on November 30, 1928.  The ultimate owner of this prototype was the creator, and this piece now lies in the Smithsonian.  It would be officially designated as a Type A-3 by the American military and a "second setting navigation watch"[1] by the U.S Naval Observatory.
The watch requirements had been developed specifically for aviators with the Aircraft squadron's battle fleet, making use of a central turning inner chapter, which could be rotated in either direction to gain an additional accuracy of +/- 30 seconds by using a radio signal or other known exact timepiece.  This would allow the exact second to be set, relative to the hour and minute hands, improving time synchronization.  
Rear Admiral Moffett, who was the chief of the Bureau of Aeronautics for the US Navy Department stated, "The suggestion… as to a moveable second-hand dial is considered to be a very valuable one, greatly facilitating the process of keeping a clock set to the exact time." [2]
Before 1928, watches were used with sextants for celestial calculations and at best, accurate only to one minute.  Patentee of the Bureau of Standards Sextant K.H. Beij when speaking of the model stated "The watch idea is most ingenious and I kicked myself for not having thought of it before". [3]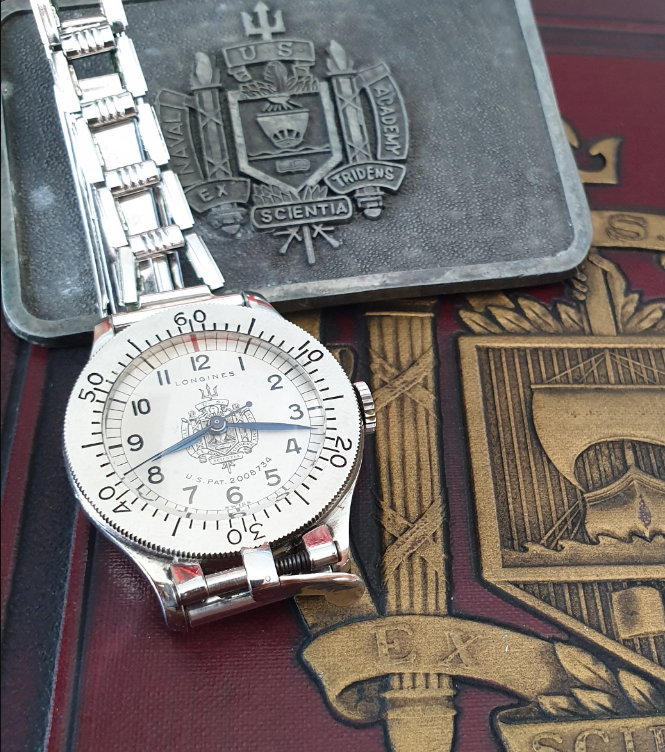 Longines would be the only company to make a large 47mm wrist watch version of the second-setting watch. It was only ever made with a central second hand and a turning inner chapter for the life of the 47mm version. Smaller 'New Second-setting' models were developed and a nickel plated silver sample was sent by Longines to Baume for Weems inspection in London late 1936.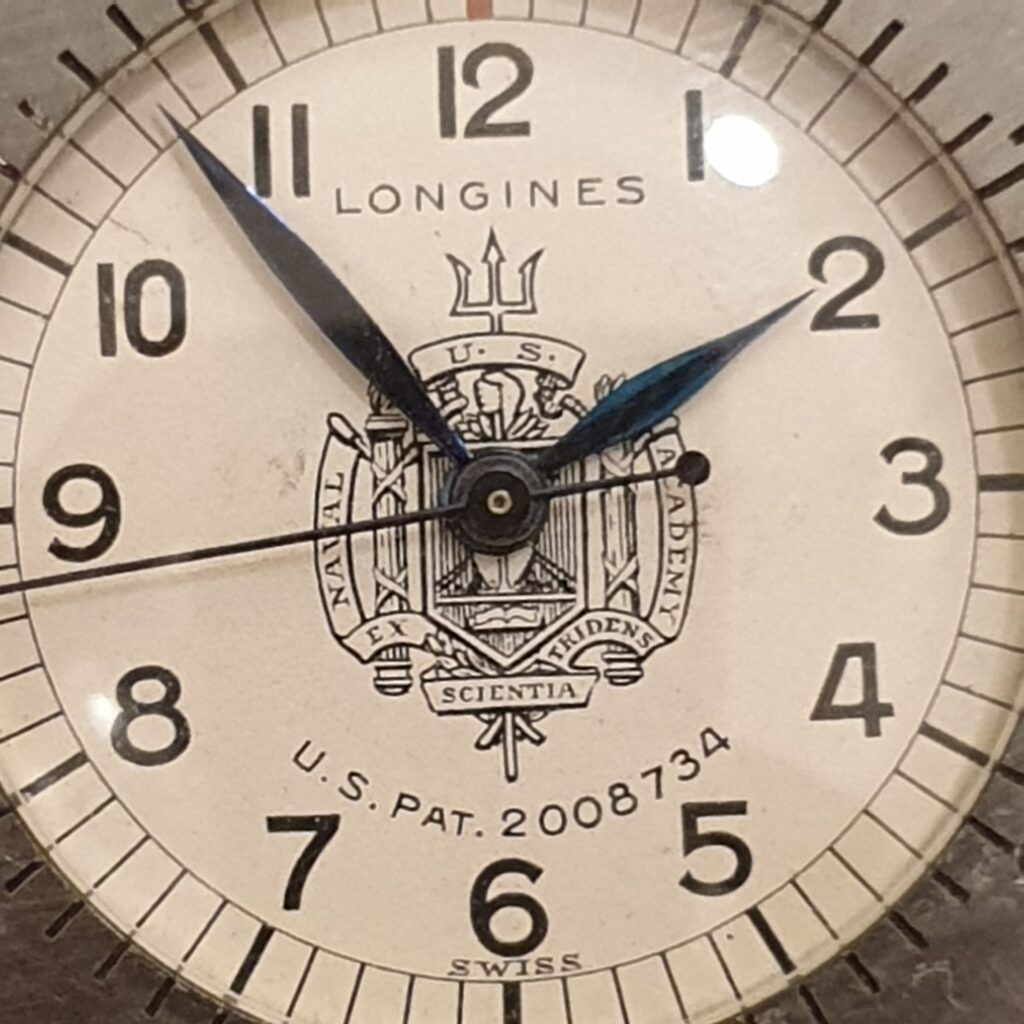 Originally, made in a goldfill or chrome case in the 28mm case size, it was designated an A-11 by the American military. It was most likely too small for practical use given the rigors of aviation and likely effected intended functionality. The US military used the smaller size right through WWII.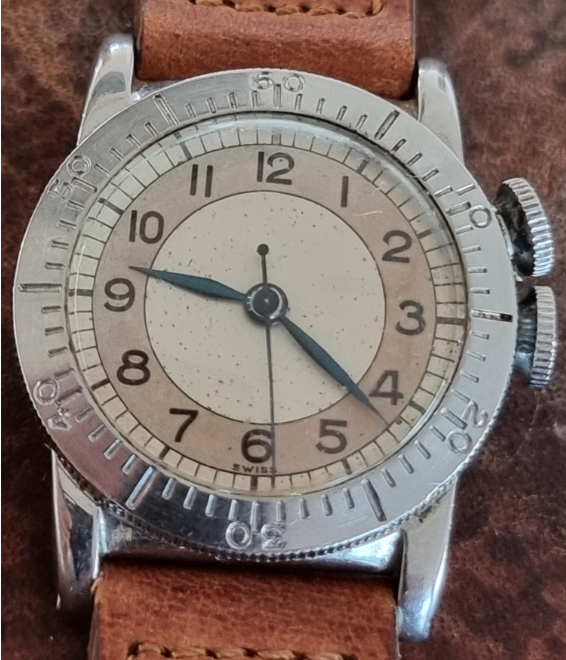 Larger all steel 34mm models were developed and made for the UK military by Zenith, Movado, Omega, JLC and Longines. Originally, intended exclusively for military use, the Longines version was also sold commercially and the US Naval academy retailed pieces with their coat of arms on the dial. These first appeared in 1937, were most likely retailed by Weems to academy attendees and Longines archives confirm the special dial was supplied by them.
http://pdfpiw.uspto.gov/.piw?docid=…1=2008734.PN.%26OS=PN/2008734%26RS=PN/2008734
Whilst patent 2008734 was applied for in July of 1929, a liberal interpretation would be needed to extend the patent to cover the Longines Weems second-setting model delivered to Wittnauer November 30, 1928. Whilst you have a turning inner chapter in the 1928 prototype Weems, the patent illustrations picture a complex engineering marvel, with sub rather than center second, multiple turning dials powered by multiple movements essentially providing navigator's time or a variety of times simultaneously at a glance allowing equalization of the time difference on all pieces.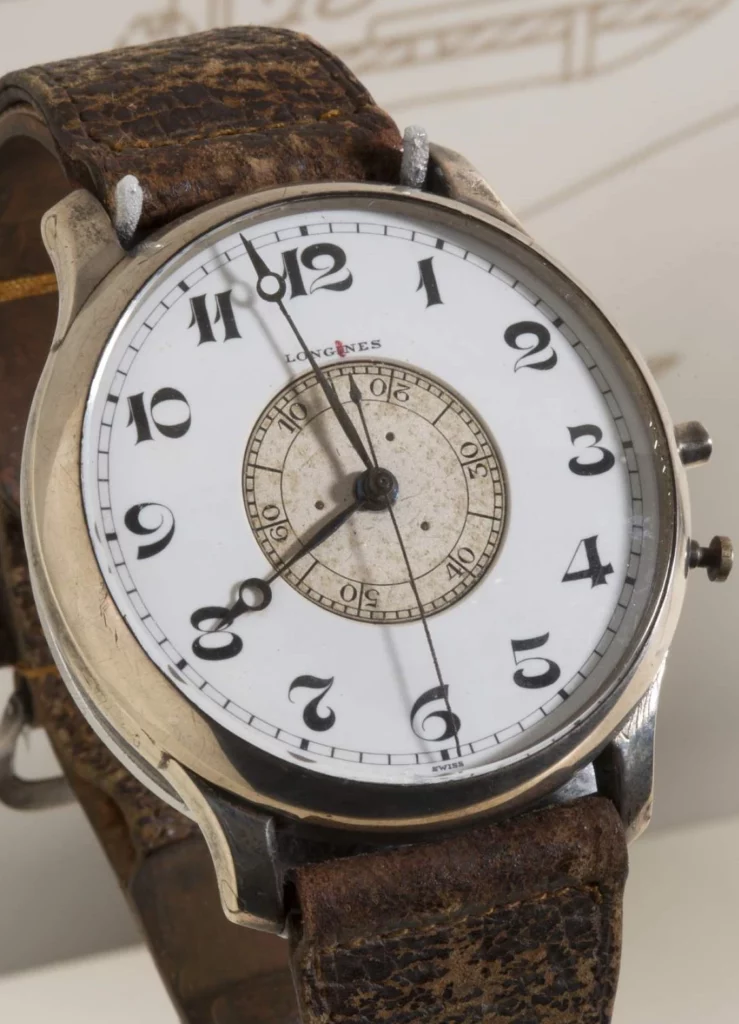 Weems was truly the grandfather of aerial navigation and his brilliance and outstanding contribution to the development and progression of avigation and aviation safety cannot be overstated. He took on titled roles developing avigation and technical watches in the mid 30's with Longines-Wittnauer. The genetic backbone and development of the first 1928 prototype Weems heralded from the existence of two very special pocket watches.
A modified Waltham Vanguard pre-Longines 'Weems' and a Turkish market dual time turning inner chapter watch developed and sold by Longines more than ten years earlier. Incredibly Lindbergh's Waltham example survives today, along with other Longines rarities. Into this pot, the skills and engineering brilliance of Weems, John Heinmuller, Wittnauer and the magical Longines technical from St Imier.
One can see the Longines Weems genetic markers in a turning chapter Lucy pre-Weems type dual time Turkish pocketwatch supplied to their agent Nacib Djezvidjian pre 1918 . Archives note that the very first Longines prototypes used repurposed and reworked 18.69N caliber dual time movements that had been destined for this same Turkish model.
The two pocketwatches quickly evolved into the large Longines Weems, a large 47mm, three hand Second-setting watch utilizing a turning inner chapter.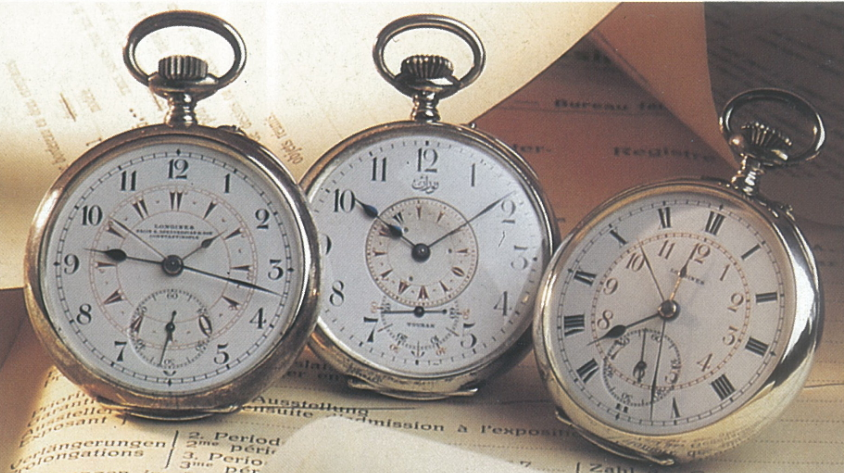 Further, US patent 2008734 makes no reference to a turning bezel which is the basis for the second generation of New second-setting Weems models developed in 1936. Some of these pieces carried US patent number 2008734 on their dials.  Weems was selfless, noting within the patent that it can be "manufactured and used by/for governmental purposes without the payment to me of any royalty thereon or therefor".   
The issue of royalty payments is further discussed in Stephanie Lachat's book 'Longines through Time".  Weems dealt with the UK agent Baume on the development of the so called 'New' Second-setting watch, a Weems model in smaller sizes that made use of a turning bezel to perform the second-setting function.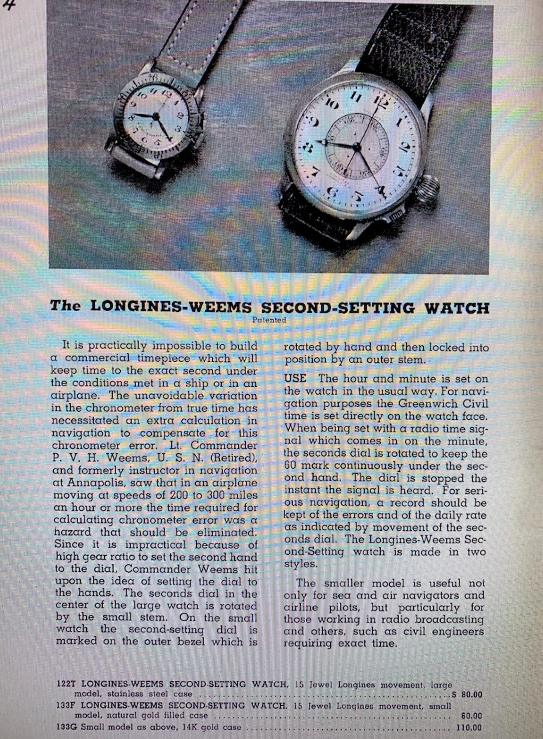 The smaller versions would use an external bezel calibrated from 0-60, where the bezel '0' position could be turned to synchronize with a radio signal or other known accurate time source.  This made calibration easier than using a hacking seconds method of adjustment as it was almost impossible to set the seconds hand exactly. In the large Weems it was solved with the internal turning internal chapter, whilst on the smaller Weems the rotating external bezel.
Heinmuller was notified by Weems of his being in London and he made arrangements for a meeting with Baume who had been working with him on the development of the New Second-setting watch.
A letter from Longines to Baume on July 6, 1936, noted "…we think it would be prudent not to mention the sales that you have previously made of Weems watches (18.69N, central seconds, rotating seconds dial). While Commander Weems is on excellent terms with Longines-Wittnauer Co., he is also very interested in his system of navigation, which is why we have created the watch known as Weems.  If you were to mention sales of 18.69N watches, it is highly likely that Commander Weems would submit a claim for royalties, and so it would be preferable for you to avoid all discussions on this subject". [4]
In preparation of the New second-setting watch, Baume submitted a list of technical improvements noted by Weems in September 1936 to Longines with their reply noting, "What he is suggesting has already been accomplished in a slightly different manner.  Instead of the break lever working on the lug, which seems very practical, we have designed for stoppage to be enacted via a small additional crown at 4 o'clock, but which could also be placed elsewhere, at 2 o'clock, or on the other side of the lugs at 8,9 or 10 o'clock".  [5]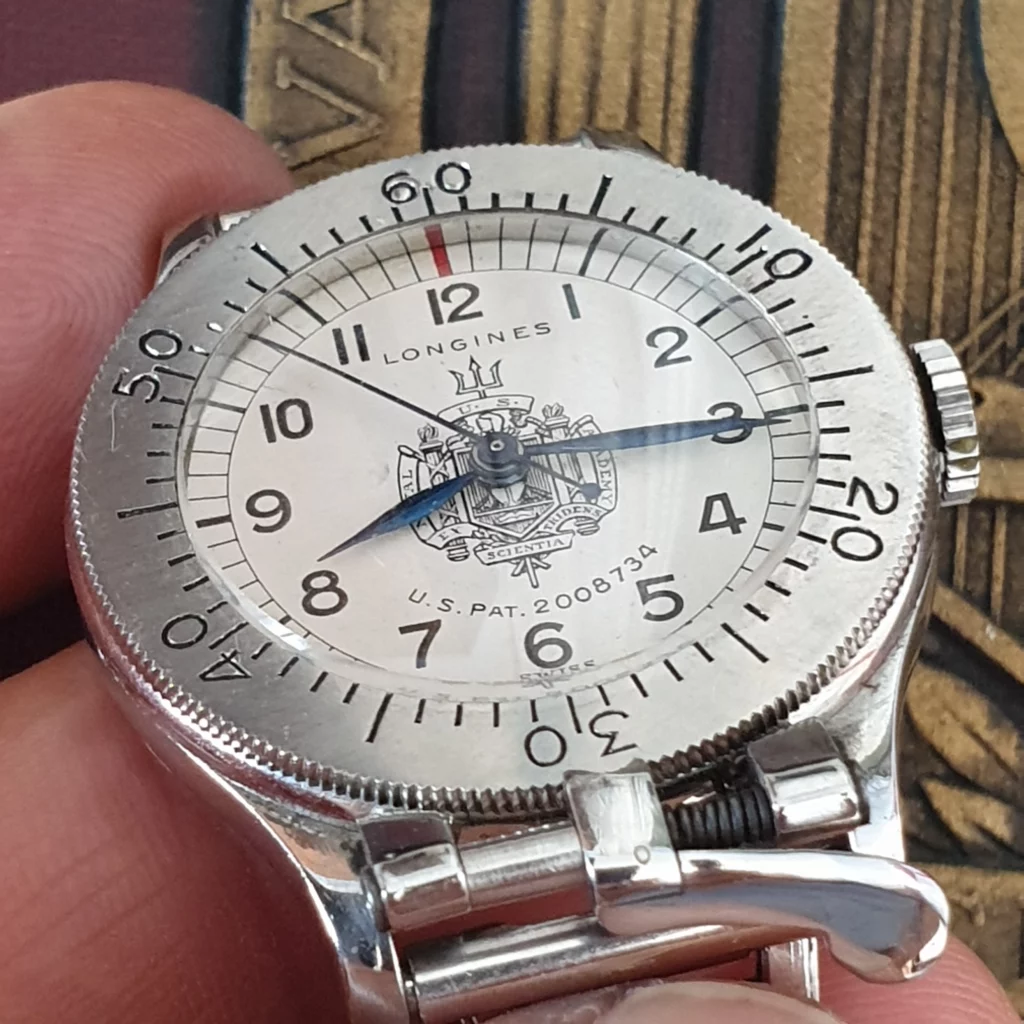 Weems US patent 2008734, received approval July 23, 1935 and would feature prominently on the dial at 6 o'clock of some, but not all, smaller New second-setting Longines branded Weems watches featuring a rotating bezel. The patent number appears on the dial of all pieces of steel US Naval Academy Weems watches which were retailed through the Weems training school in Annapolis. None of the other makers for the UK military – Zenith, Movado, JLC would feature the patent. Whilst no royalties for US military use within the patent notes, it is not known whether the UK military paid any royalties.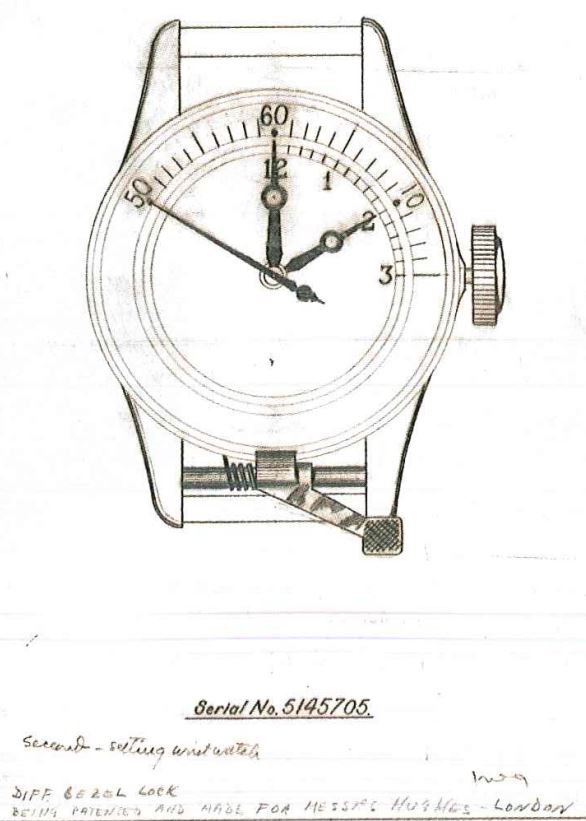 The words Patent USA would also be used on the dials of some large Weems models from 1937 on, and the subject of further analysis in another article.
Seemingly, what Weems notes the "scope of my invention" in his patent application of 1929 acquired a broad market interpretation from the patent office in the July 1935 approval to apply to one or both the Weems models. Coming six years after the filing of the patent request, it should be noted that there was a substantial and deep commercial relationship shared with Longines and their American counterpart Longines-Wittnauer Co.  Weems served as "Chief of Technical Watch Division for L-W Co.", and also "Chief of the Navigation and Avigation Division of L-W Co Inc".[6]  
Further, John Heinmuller maintained a very close personal relationship with Weems and together they had been involved in the development and delivery of the 1928 Longines Weems. He was also responsible and appointed him for the technical watch development roles at Longines-Wittnauer Co and worked with him in this space. Moreover, the threat of possible legal action protecting the scope of his invention may also have been supported by his father who was an attorney.
Weems was an integral part and the true grand master of Avigation or Air Navigation. Eight years before Lindbergh's famous and incredible solo flight Weems looked up at three small planes from his station tracking ship and wondered upon aerial navigation. That wondering would soon reshape aviation forever.
The crew of the destroyer USS O'Brien, flew the transatlantic route from May 16th to the 27th of May, 1919. The NC-4 was guided by a fleet of 20 ships at 50 mile intervals along the route. Weems was stationed on a ship below, guiding the aircraft through treacherous waters.

Of the three planes that left Newfoundland only one made it to London. This first transatlantic flight was marred with tragedy and twenty-five hundred feet below Weems figured that there must be a simpler and safer solution to aerial navigation. To navigate a plane with sight alone was a near impossible task with the ever looming threat of fog and cloud cover. The huge fleet used to guide the planes also seemed thoroughly impractical.
From his days witnessing the Navy's NC-3 flying boats en route attempting to cross the Atlantic, he generously shared his teachings with all who cared to learn.  His training school established in 1927 and the Weems System of the Navigation formed the benchmark of the avigation for pilots, commercial airlines, the American and British military. Lindbergh and his wife, Byrd, Amy Johnson and master navigator Harold Gatty were all students and the latter a teacher in the finer points of avigation based on the Weems system. 
Here, 'he perfected his air navigation system by simplifying the method of determining latitude and longitude by aerial observations, improving sextants, and adapting chronometers to air use.'[7]
The Weems System of Navigation incorporated both Weems watch models as official pieces of equipment. Whilst the author opines that a very wide read of the famous US Patent 2008734 has been granted to the patent creator, perhaps it was deemed to fall within "the spirit and scope" of Weems creation by Longines et al. The technical genius of the man credited with its development are inextricably linked to Longines and their American agent's remarkable role in the golden years of aerial navigation and aviation's history.
Footnotes
Air Navigation Weems 1931 first edition p400.
Air Navigation Weems 1931 first edition p400.
Air Navigation Weems 1931 first edition p402.
Longines through Time The story of the watch Stephanie Lachat p113.
Longines through Time The story of the watch Stephanie Lachat p113.
Longines through Time The story of the watch Stephanie Lachat p111.
N. W. Emmot, 'P.V.H. Weems 1889-1979,' Glimpses into the life of Captain Philip Van Horne Weems, http://www.weemsjohn.com/TheGrandoldManofNavigation.html (date accessed: 29/09/16).