Longines experienced a multiple decade zenith in the first half of the twentieth century and can lay claim to a multitude of horological firsts, with a number of these closely tied to the development of specialist timepieces to aid overcoming the challenges of pre-radar air navigation. One of these incredible creations is the world's first Hour-angle timepiece.
P.V.H Weems, the grandfather of the modern day G.P.S system, whose air navigation techniques were used for three decades stated, "It is perhaps fortunate that timepieces were developed before radio, or else extremely accurate timepieces would probably never have been made".[1]
Longines unparalleled precision timing history was confirmed by them winning more accuracy awards from the four great observatories of the world than any other maker. Aviation's remarkable post 1920's progression, and the complex challenges of air navigation (avigation) afforded by increased speed, distance and duration of flights over new unknown frontiers, the sea, and at night, led to a complex range of challenges and life limiting possibilities for pilots. 
Consequently, aviators and aviatrixes lives depended upon innovative, accurate, robust, reliable, precise aviation timepieces and technical instruments as well as their ability to use them.  Much like John Harrison's challenges in the quest for longitude discovery on the sea 200 years earlier, this soon led to the development of specialist aviation centric navigational timepieces to aid in the determination of one's position in the air.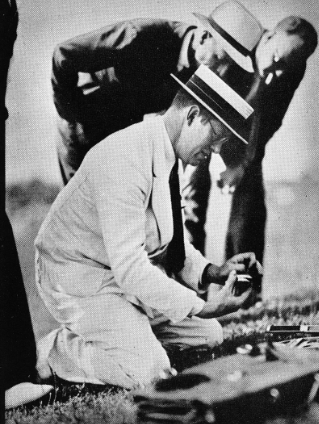 This was a truly different age – where new frontiers and exploration was still possible. Essential aviation tool watches were central to survival and overcoming the challenges of air navigation.
They aided making conscious and correct decisions over the disorienting and monotonous hum of the engine over land and sea where even the very best made mistakes that cost lives.
One remarkable category, the aircraft calotte, became an essential part of each and every aircraft voyage. Substantial credit lies with a number of key individuals.   The first of these, John P.V Heinmuller, a Longines watchmaker left St Imier in 1912 as a 22-year-old to join Wittnauer, their American agent.
He was one of the key driving forces behind the supply of cockpit instruments and plane calottes to the burgeoning U.S. Army Air Corps under both brands.
These aircraft clocks were first delivered to the French air force in 1915, with advertisements appearing in the French title L'Illustration in 1916. 
He became President of the World Air Sport Federation, chief official timer for the National Aeronautic Association, the Fédération Aéronautique Internationale, then vice (1921) and later president of the new Longines-Wittnauer Co. in 1936.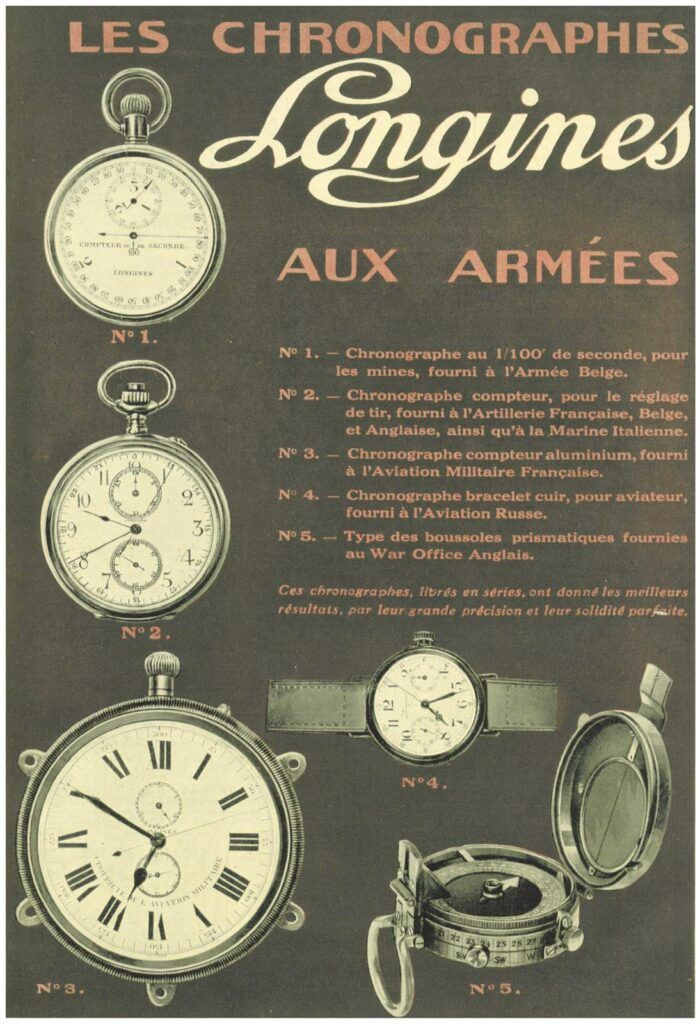 Much of the progress, success and recognition of aviation's greatest feats can be credited to Heinmuller's unwavering commitment, active planning, detailed record keeping, time piece and instrument development and his friendships with aviation's who's who. Many of these early aviation endeavors are detailed in his incredible book, Man's Fight to Fly, which captures and records many of these remarkable history making feats of this thirty-year period post 1915.
Success can also be attributed to the master watchmaker Alfred Pfister, who in 1896 started working for Jacques David, the man who oversaw much of the successful industrial transformation of Longines.  Both men were involved setting up production of the smallest ever Longines movement, a 9 ligne, Lépine à seconde.  Pfister's expertise in industrial watch production was recognized, and in 1912, at just 38, he leapfrogged those with Francillion or Savoye family connections to become Longines technical director.
He rationalized production, exhibiting a relentless focus on research, development, precision timekeeping, and innovation. The Longines technical team under Alfred Pfister's leadership worked with P.V.H Weems, Heinmuller, Lindbergh and other pilots to oversee a remarkable chapter in aviation horological history. 
Innovation led to the creation of essential instruments and tool watches that are among the most important pieces ever made and designed to conquer the challenges of avigation.
Post WWI, two basic methods of early air navigation existed. The first – 'pilotage', where known landmarks, rivers, mountains, and maps were used to assist at lower altitudes. The other, 'dead reckoning', included taking the last definitely known position and carrying forward with the last known speed, drift, course, and use of a compass.
To this, both radio and celestial navigation were added. The arrival of Frank Dyson's so called 'BBC pips' in 1924, made the radio an indispensable navigational aid.  This ushered in profound changes in the aviator's ability to regulate their time against a known accurate source.
It was P.V.H Weems famous 'Second-setting' watch that assisted this improved time synchronization of +/- 30 seconds by allowing the inner turning disc to be set relative to the second hand using a known accurate source. He played a central role in conquering air navigation's challenges, with Rear Admiral Moffet, the Chief of the Bureau of Aeronautics noting, "the suggestion.. as to a moveable second-hand dial is considered to be a very valuable one, greatly facilitating the process of keeping a clock set to the exact time"[2].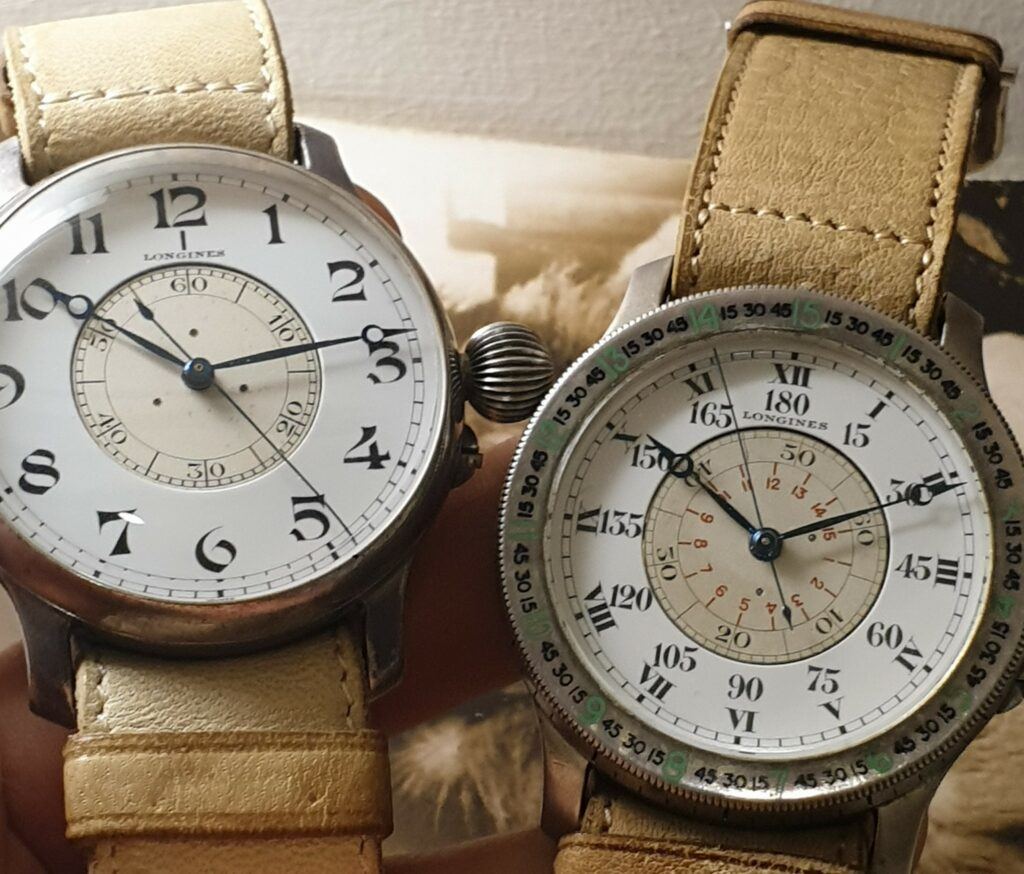 Weems ideas first came to life using Waltham Vanguard pocket watches that were modified by master watchmaker Harry Nash of Jessops Jewellery fame in San Diego.
Heinmuller worked with both Weems, Lindbergh and the Longines technical team under Alfred Pfisfer's stewardship to bring life to both the Second setting and montre angle-horaire (Hour-angle) instruments.  The latter improved upon the second setting watch and enabled a simplified accurate calculation of longitude as well as expediting this process.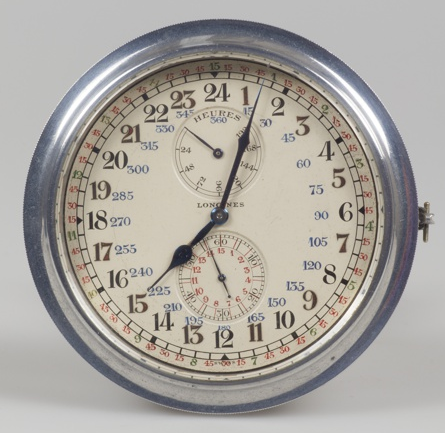 The hands of the watch giving the time in hours, minutes, and seconds. The bezel and the inner chapter allowed you to establish your position in degrees, and units of the arc based on the bezel graduations and inner chapter markings.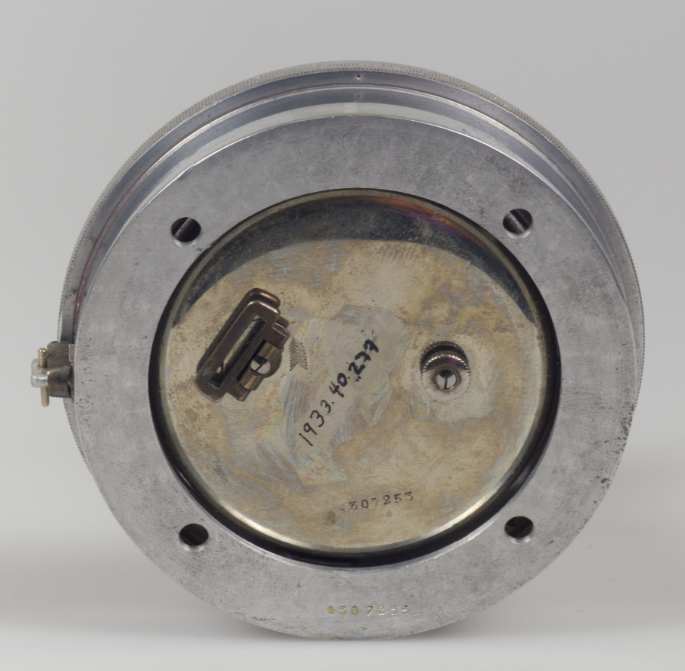 Recent discoveries of Lindbergh's personal hour-angle prototype watches and other documents, go a long way to colouring the remarkable production chapter of history's most famous pilot watch instrument and technological masterpiece.
One of the most remarkable horological discoveries is of the world's very first production Hour-angle timepiece. The Longines instrument with serial #4307253, is an aluminium aircraft calotte, that uses the famous eight day 192hour power reserve calibre 24.41. The invoice date to Wittnauer of January 25, 1929, makes it the world's very first production Hour-angle timepiece ever made.  It is just two months after the delivery of the very first Longines Weems Second setting watch with 3585867, on 30 November, 1928.
It should be noted that a Waltham pre-Longines Weems pocket watch, a personal watch of Lindbergh lies in the Missouri Museum and features crudely hand marked unit of arc calibrations on the dial.  This hand edited pocket watch possibly pips the world's first production hour angle timepiece and may even be the inspiration for the incredible Longines piece.
Other priceless discoveries, include a detailed unpublished Hour-angle calotte design illustration that served as the blueprint for the incredible 1929 Longines creation with accompanying patent application notes. This describes the prototype calotte creation and serves as the inspiration for two incredible Weems Hour-angle prototype wrist watch creations that followed. 
They go a long way to colour the remarkable production chapter of the hour angle; history's most famous pilot watch instruments and technological masterpieces.
A testament to Pfister's remarkable role, tenure, and the precision and innovation legacy prowess he helped create now lies as the centre piece in Longines museum's aviation section. A unique, oversized and outstanding counter top Hour-angle prototype clock gifted to him.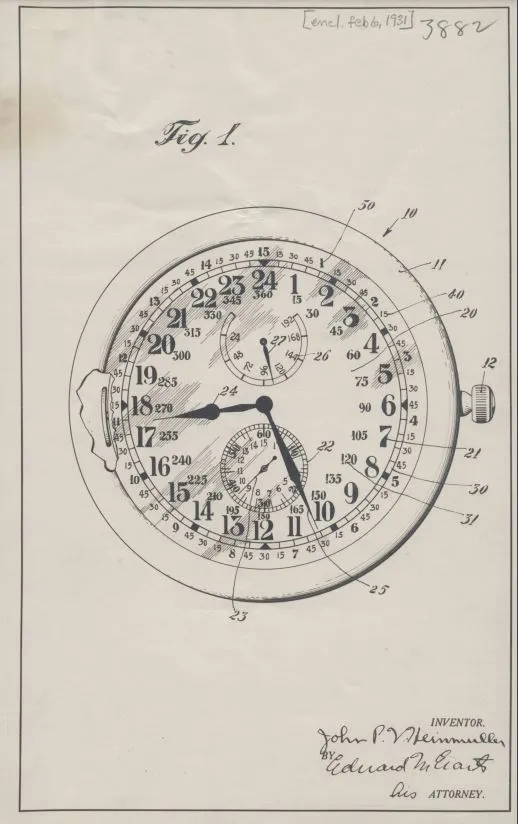 The 1932 creation, with reference 5888, uses a cal 18.69N movement.  The serial number 5167805 is part of a close knit series of incredible and unique Longines aviation timepieces from the early 1930's.
All hour-angle pieces are incredible, remarkable and unique Flightbirds worn by aviation's who's who. The world's first calibrated rotating bezel model played its role facilitating and expediting the calculation of longitude in aviation's golden years. There is of course one small Jeffrey Archer type twist in the tale.  This concerns the Longines US agent's John Heinmuller name being noted as the inventor on the hour-angle calotte patent submission. 
This awaits discovery in another article….
---
[1] Air Navigation Weems 1931 first edition p399
[2] Air Navigation Weems first edition p 400