In Stephanie Lachat's beautiful book Longines through Time, she notes that the very last generation of Lindbergh reference 4365 using either 37.9/37.9N calibres were almost all made in steel, with a "few rare pieces in silver".[1]
---
To date, just three of those "rare pieces in silver" have ever surfaced. The all silver fourth generation Hour-angle pieces are a rare breed indeed and Longines archives indicate that at least six silver pieces were supplied per order 38421 to Ostersetzer the Italian agent on September 17, 1942. Strangely and incredibly, the three discovered pieces are all part of this very same order with serial numbers 6374061, 6374062 and 6374067. 
Aside from the rarity of the silver cased model, Longines archives note in house chrome plating of the watch case and cuvette (inner back) at the time of manufacture with two of the three discovered pieces with serials ending in 4061, 4067. Further, these two pieces appear to have chrome plating over their all silver bezel.
The why part as to them being plated at the factory will likely remain a horological mystery and unknown forever. However, research on the rarity of just a handful of all silver fourth generation Hour-angle pieces being manufactured and sold seems to indicate that the three pieces appear to be part of quite likely the very last use of silver cases on either a Weems or Lindbergh model.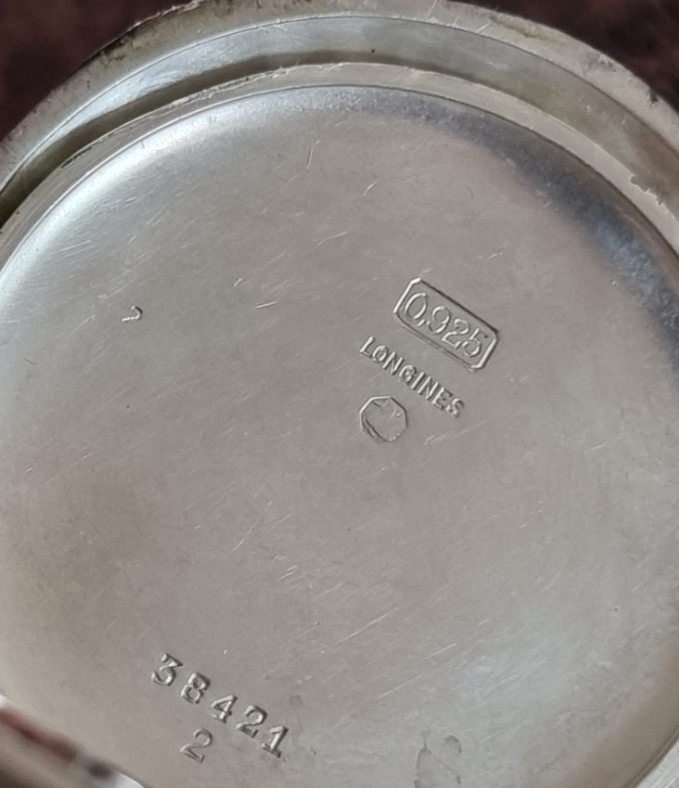 Events like the Great Depression, tax changes, war and currency devaluations in individual markets and countries would at times lead to a wholesale change and collapse in a market in turn effecting stock levels, orders and deliveries. Longines could be sitting on old stock for a variety of reasons and would be no different to any other manufacturer in a complex market.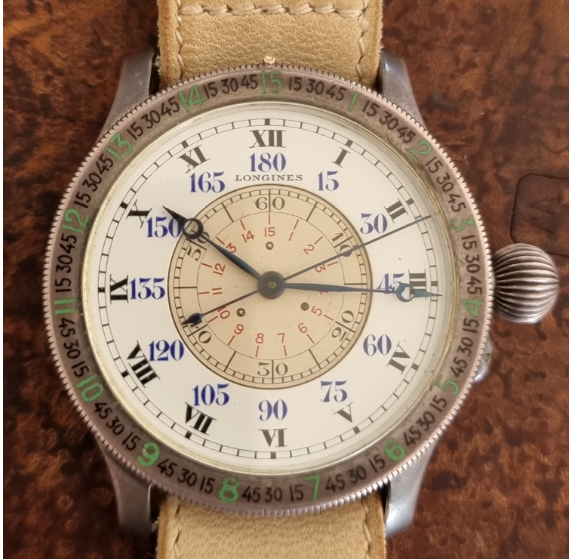 There will always be market anomalies and unusual out of the box deliveries which defy traditional casual analysis. For instance, three all silver second generation ref 3210 Lindbergh watches with the 18.69N calibre were also delivered to Ostersetzer in 1942. Watches with serial 5497850, 5497859 and 5497868 were delivered January through April. Further, a Weems watch with 18.69N caliber in a steel case was delivered to Columbia as late as 1951.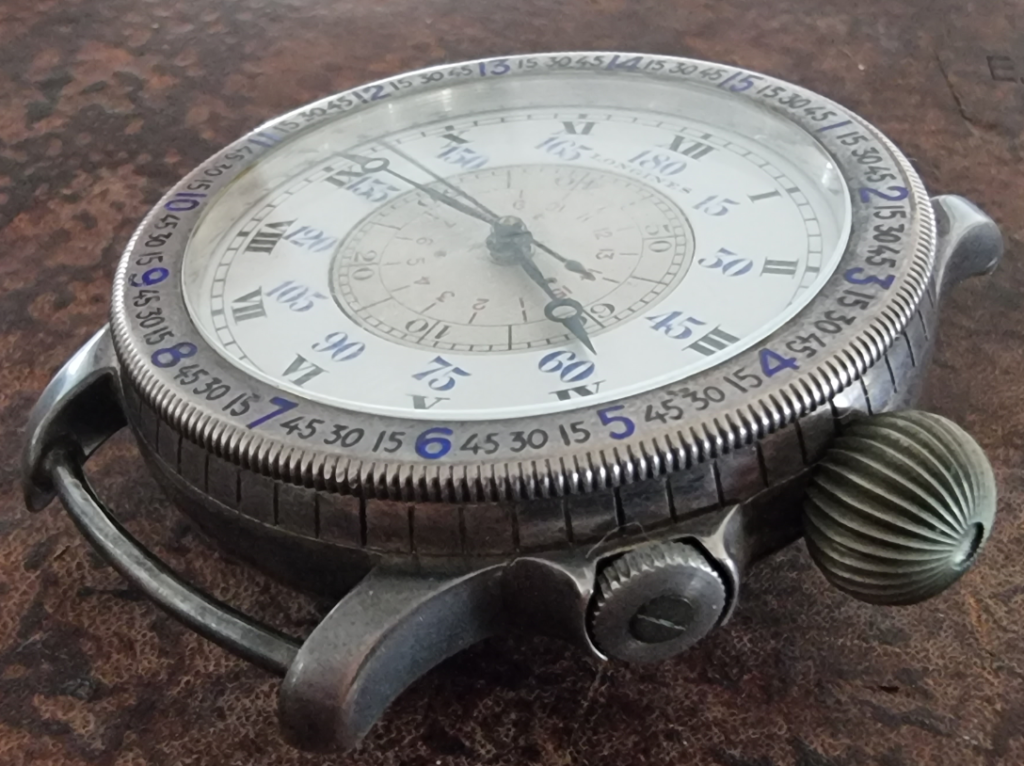 The movements in all cases had been replaced with newer "better" models by Longines, but obviously sold because the company is dealing with expensive engineered manufactured products that don't really have an expiry date.
A steel Lindbergh appears to have been made in 1934 (not sold till 1938) but steel Hour-angle pieces were being supplied in or around 1938. Watches may have been ordered and made, then had delivery deferred, cancelled or changed. The all silver examples being delivered after 1940 with early bezels are most likely using up old case stocks and the older type of bezel stocks.
We have an all steel Hour-angle delivered in 1936 into South America with the very first generation dial and bezel on a steel case which is also a market anomaly. Likewise, the first two Longines prototype Weems pieces 'recycled' movements originally purposed for Turkish dual time pocket watches in 1918.
Records to date indicate that all Weems were in stainless steel cases by 1940 with the second setting chapter disc of the steel models being upgraded and acquiring a bolder font.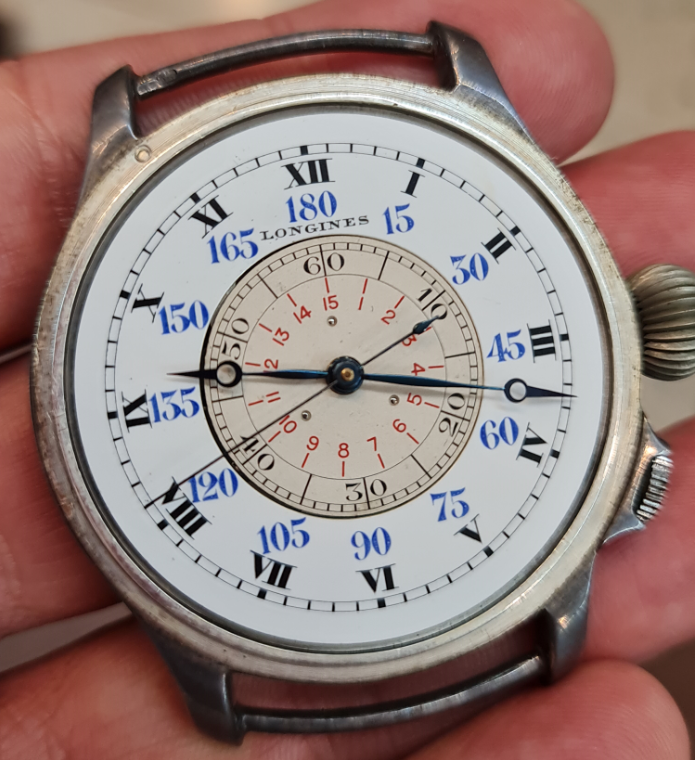 Similarly, Omega's reissue of an enamel dial chronograph that 'Lawrence of Arabia' had supposedly worn, uses a reworked 100 year old movement and caliber that had obviously never been sold in its day.
Today's supposed watch "science" by experts, analysis and breakdown of horology stating that this model can only be sold on these dates with this movement, dial and case is sometimes forgetting, ignoring and excluding historical events. Companies are, were and always have been run as businesses and would use up all old parts whenever possible.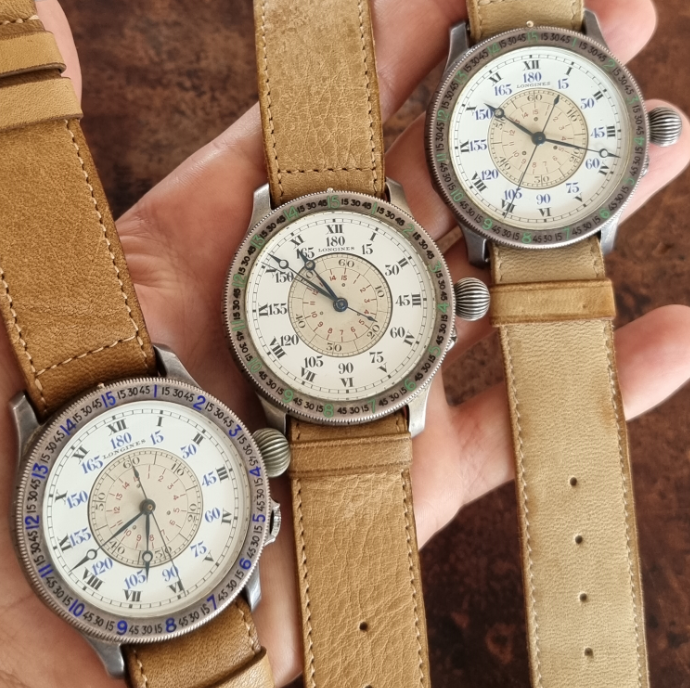 Thankfully, Longines have the very best archive records of any maker, and whilst not an absolute at all times, almost always speak volumes about the history and pedigree of each and every watch they ever made.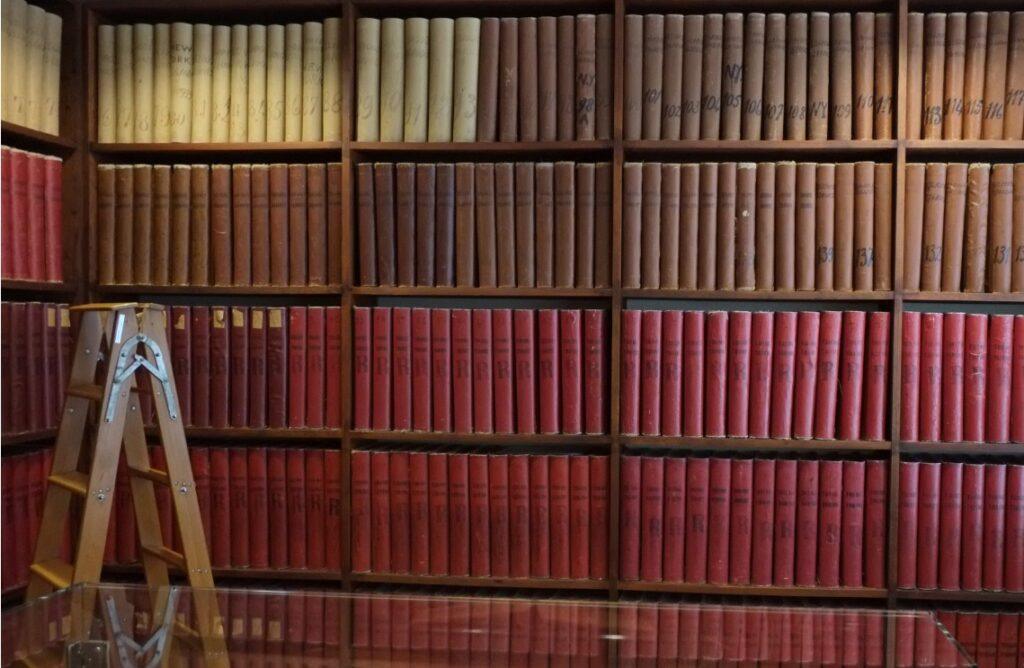 The first piece of the September 1942 delivery, the 'Franco Vestrini' piece with serial 6374061 is marked number #1 on the inner caseback and dustcover and was the very first piece of the batch. The auction listing pictures clearly show some wear of the chrome at the case edges and also on the bezel itself. 
LONGINES – Lindbergh à Angle Horaire "Franco Vestrini", ref. 4365, n° 6374061 / […] | lot 653 | Horlogerie de Collection (Monaco) chez Artcurial | Auction.fr
The other rare silver piece serial 6374067 is featured on page 218 of John Goldberger's Legendary Longines book and is also noted in the Longines archives as being chrome plated over the silver case at the factory. Both pieces 4061 and 4067 also appear to have had their silver bezel plated at the same time.
The fourth generation Lindbergh models ref 4365 benefited from the either the 37.9 or 37.9N caliber movements and all pieces have a two color blue and black enamel dial.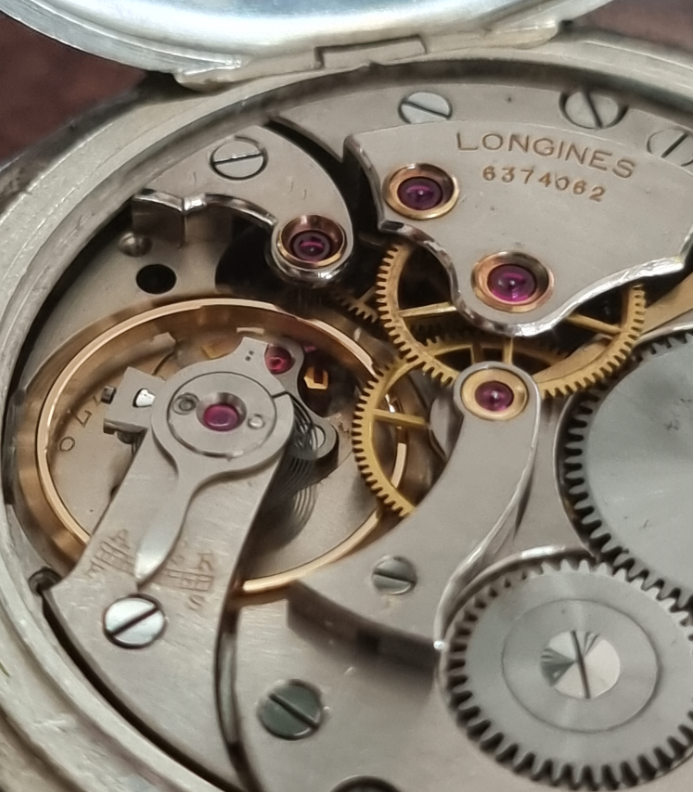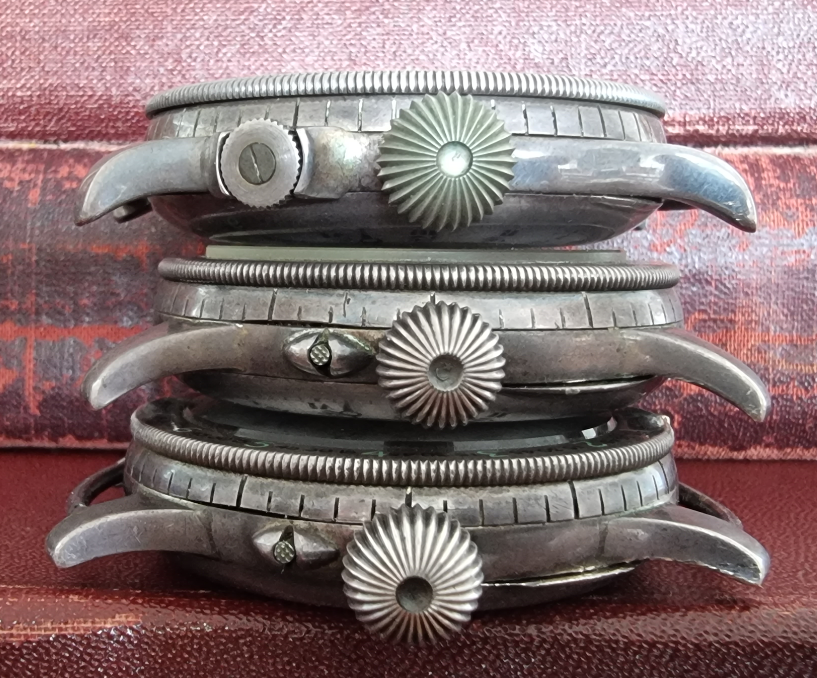 The last series 4365 has a thicker beefier lug with considerably more downward sweep.
The last generation of the Hour-angle watch also features the blue and black enameled bezel with a larger font for the unit of arc markings increasing legibility.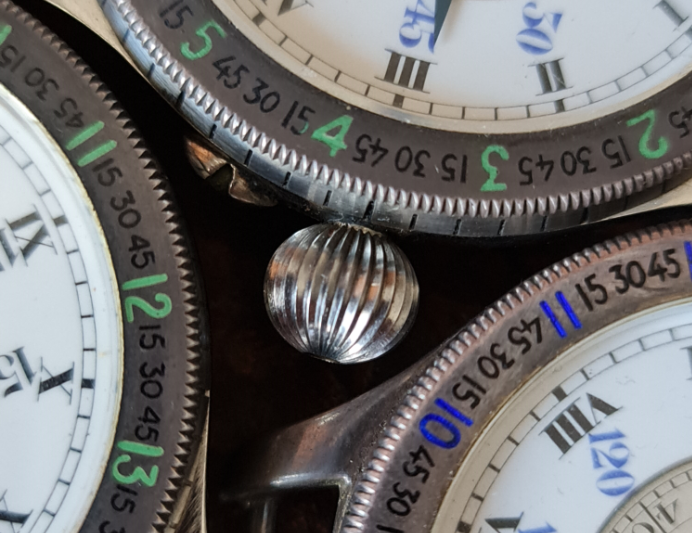 The three surviving all silver ref 4365 Hour-angle pieces are part of a very rare handful of pieces made by Longines. Research indicates in all likelihood that these pieces are the very last time all silver cases are used on either a Longines Weems or Hour-angle model.
The model and delivery date speak of their likelihood being part of a war order by Italy's Regia Aeronautica. Somehow, three incredible watches all delivered on the very same day to the same agent 79 years ago have survived. Most likely they saw involvement in a few war missions and they have an interesting story to tell from a truly different time in aviation, avigation and world history.
[1] p116 Longines through Time The story of the watch Stephanie Lachat