It has now well accepted that the generation of fifties turning dive bezels heralded from the development of aviation watches twenty years prior.  Longines can claim many firsts, and they can certainly lay claim to the very first tool wristwatch with a turning bezel, and P.V.H Weems himself was an integral and instrumental part in the development of it. In fact, Longines bezels turn first & second and third.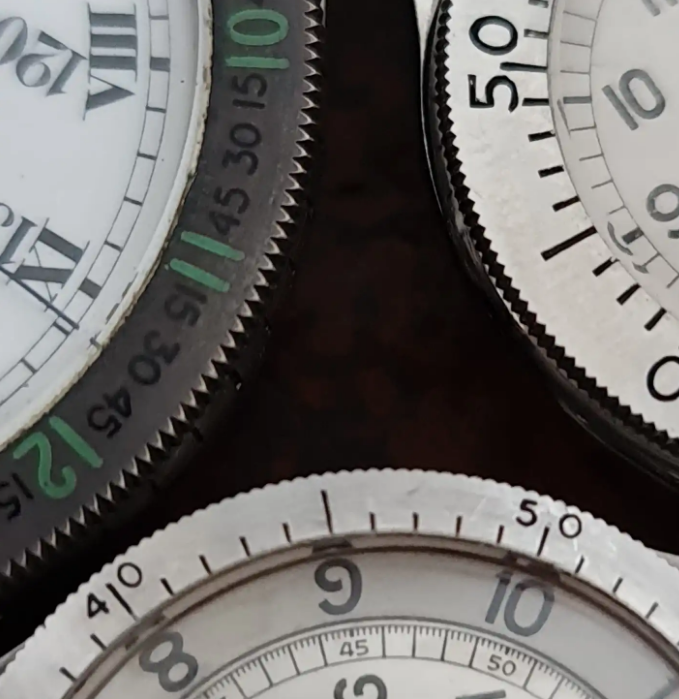 It has generally been accepted and promoted that the so-called Weems model itself is the very first watch with a calibrated turning bezel. The Weems illustration 5145705 sometimes associated with the 1929 patent application appears to be an illustration of Longines ref 3931 which first arrived in the market in 1935. However, whilst this this may appear largely the same and may in fact be the precursor of this reference, it is a small anomaly in the Longines history of the smaller new Second-setting Weems models.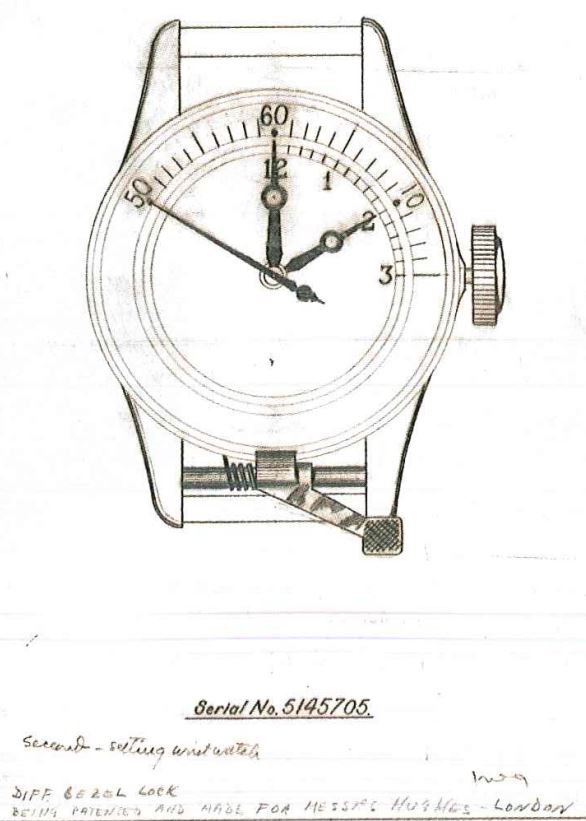 Longines archives note delivery of an all-silver watch serial with 5145705 to Wittnauer on February 22nd, 1932. The Weems watch featured a turning bezel, calibre 12.91, and archives note the watch being completed on December 28, 1931. It is now known that master technician, Harry Nash, of San Diego Jessops fame, modified a few Waltham Vanguard pieces for Weems himself around 1927/8. Recent discoveries also confirm that Lindbergh had one of these.
The delivery information detailed at the bottom of the illustration appears to be Messrs (Henry) Hughes & Son in London, who were a firm specializing in making marine and aeronautical navigational instruments.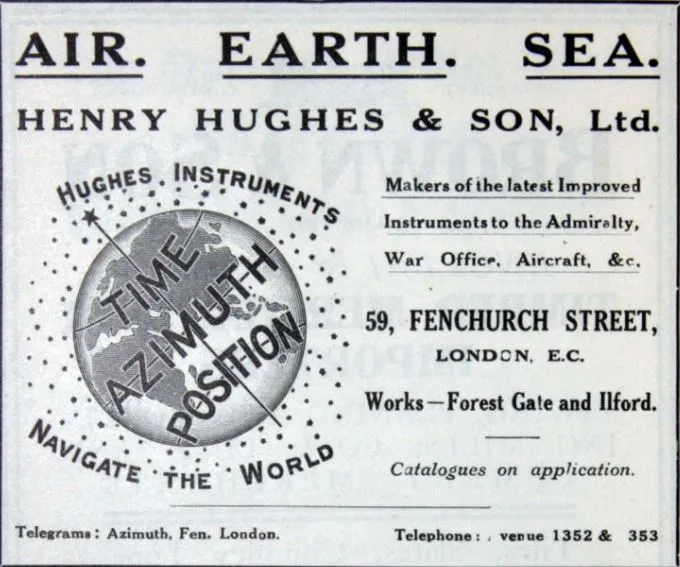 It is known Weems original sextant, branded HUSUN, came from this very firm and that he shared a business and personal relationship with the firm. It appears this first New Second-setting prototype piece modified a Longines Weems turning bezel watch by adding a locking lever.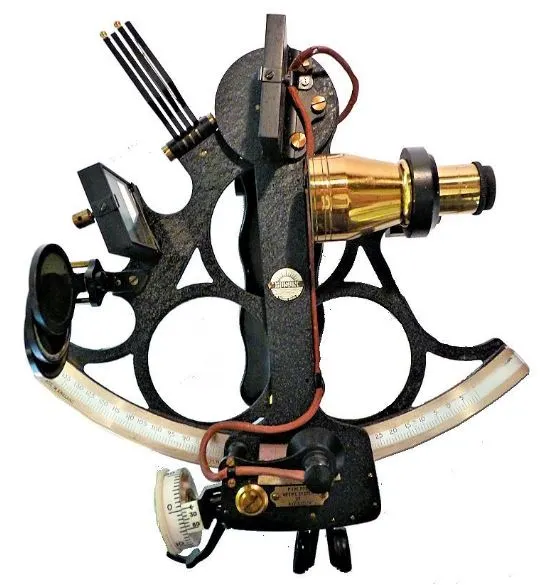 The addition of a thumb lock for the bezel was undertaken by Henry Nash of Jessops fame and made for Messrs (Henry) Hughes & Son in 1932. It is likely this illustration, or a derivative thereof, was later developed into the Longines Weems ref 3931 model which first appeared in 1935 to the market.
There are a number of reasons why the Lindbergh Hour-angle model which improved upon the large 47mm Weems Second-setting watch can claim this title. Whilst both the Weems and Lindbergh share a very similar genetic code, the first Longines Weems prototype in a 47mm case was born on 30 November, 1928.  However, the original large version of the watch, was only ever produced by Longines and was only ever delivered with a turning inner chapter for the life of the watch.
Reference by some authors is made to Weems US patent 2008734 which was first lodged in July 1929 for attesting to the Weems being the first model with a bezel. It should be stated that the patent itself involves a very complex, technical illustration of a multi-dialed, dual movement, creation by a technical genius allowing for time synchronization. 
The patent application likely relates to the Waltham Weems watch delivered pre Longines. There is no mention of a turning bezel within this US patent, however, the "scope and intent" clause as described in the patent may have enabled Weems to see the US patent number featured on some Longines Weems models.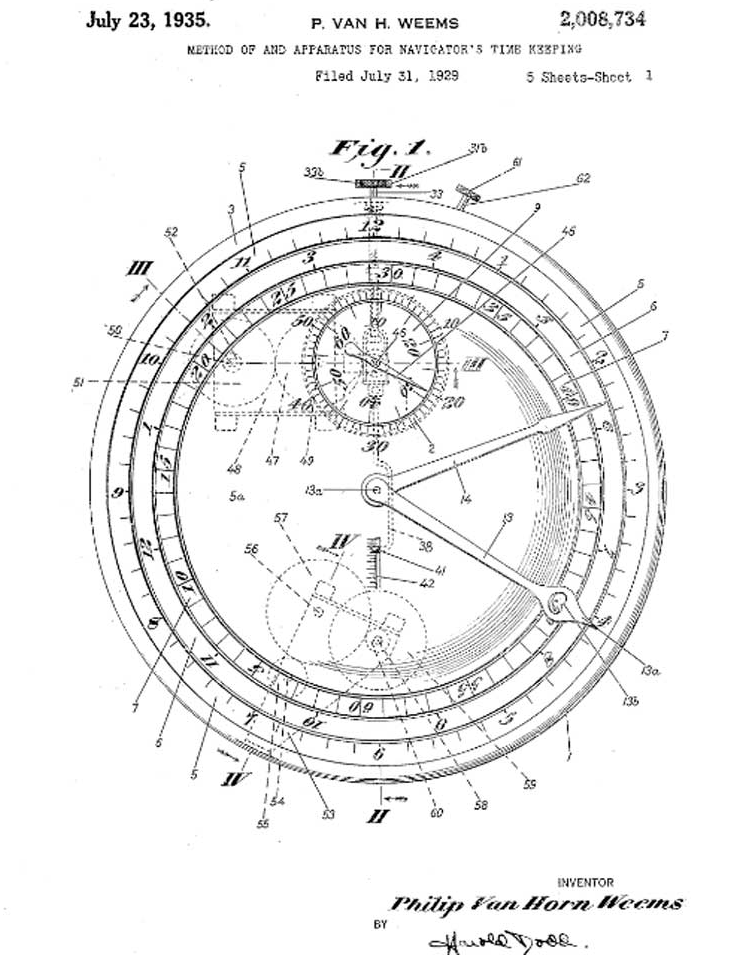 The first edition of Weems Air Navigation book published in 1931 has "Lucy" in horological anthropological terms.  Lindbergh's modified Hour-angle / Weems hybrid watch marked up with units of the arc on the dial.  The watch itself was part of the first production batch of Weems delivered to Wittnauer in the months of April and May 1930.  Longines delivered two incredible hour-angle prototypes with unit of arc calibrations – one with a turning bezel, and the other with the unit of arc calibrations on the dial.
This second version of Lindbergh's 'Lucy' Hour angle was most likely hand modified by Longines technicians. Heinmuller noted in a letter to Lindbergh on June 5, 1930 "the special watch you designed is now ready. Lt Weems impressed with the design.  Make appointment to see sample". [1] It could also have been done post event by Lindbergh, with possible help from Weems himself.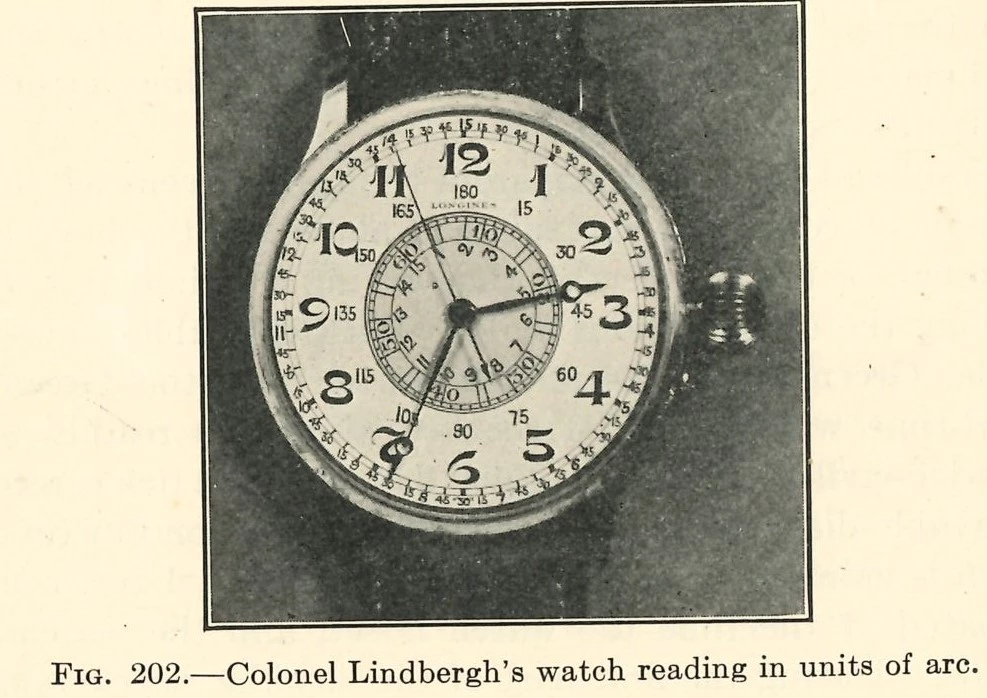 Within the first edition of Weems Air Navigation book, the author discusses Lindbergh's Aerochronometer and the movable bezel, noting that Longines were already working on a turning bezel to accommodate the units of arc measurements that Lindbergh's "Lucy" had on the dial.  
Discussing Lindbergh's Weems 'Lucy' Hour-angle he notes "..in order to set the proper equation of time on the watch without moving the hour and minute hands, a moveable bezel working on the same principle as the second-setting feature of the aerochronmeter is fitted to the watch.   The markings on the movable bezel are in degrees and units of arc only.  This bezel, or ring, covers the marks for reading time on the watch in the usual way."[2]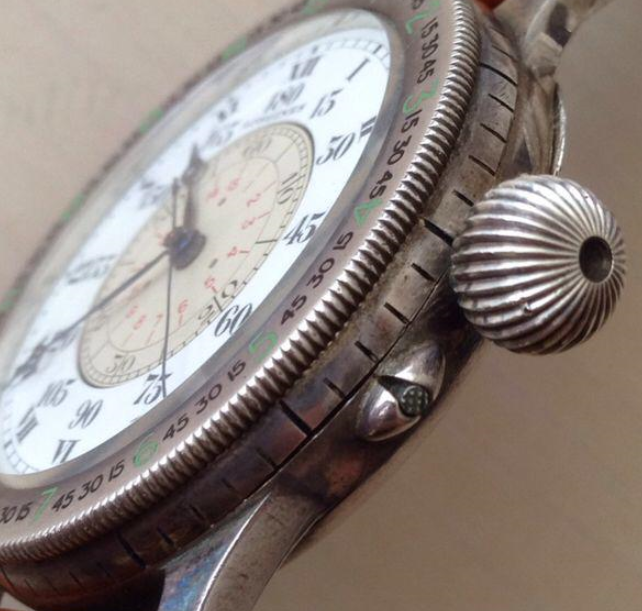 It is known that Heinmuller met Lindbergh shortly after he broke the US transcontinental speed record from Los Angeles to New York on April 20, 1930.  
In a letter to his wife, he wrote "…I was privileged to work out details of his latest instruments with him as the enclosed design from him will show.  Keep it for our records. His latest ideas incorporate a second setting device for Greenwich Time, taken from the radio.  The device… permits laying down of a position in less than three minutes. Navy experts at Annapolis say it is the most outstanding aviation improvement in many years".[3]
The world's first turning bezel wristwatch with calibrations was Longines prototype Hour-angle wristwatch made in November 1929 and delivered a few months later. This is arguably history's most important wristwatch. It is one of the two Hour-angle / Weems hybrid versions delivered to Lindbergh at this time. Both hybrids were capable of calculating longitude and one of them was the world's very first wristwatch of any kind with a calibrated turning bezel. Two more firsts for Longines.
These hybrids were later modified into the Hour-angle production model samples that were likely completed on or around December 20, 1930. "We have finished the special navigator watch with moveable bezel"[4]. Longines sent photographs of the edited watch to Lindbergh in a world with traditional communication systems.
Lindbergh commented he was examining the production watch in a letter to Heinmuller in February 1931, and again on its perfect timing a few months later in July. A World Intellectual Property Organization patent was approved for history's most famous pilot watch, the Montres angle-horaire, on October 1, 1931.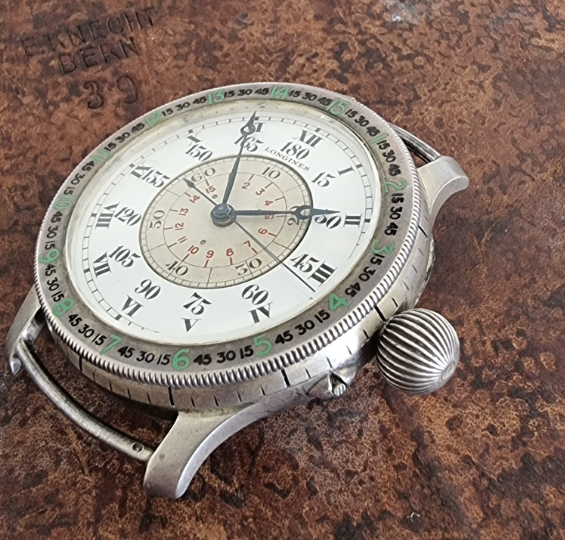 Weems US Patent 2008734 was approved on July 23, 1935, making no reference to an external bezel in any of the ten illustrations, nor in the supporting patent literature. 
Weems had been dealing with Baume on the development of other New second-setting watch models in September 1936. Baume submitted a list of technical improvements noted by Weems to Longines with their reply noting, "What he is suggesting has already been accomplished in a slightly different manner.  Instead of the break lever working on the lug, which seems very practical, we have designed for stoppage to be enacted via a small additional crown at 4 o'clock, but which could also be placed elsewhere, at 2 o'clock, or on the other side of the lugs at 8,9 or 10 o'clock". [5]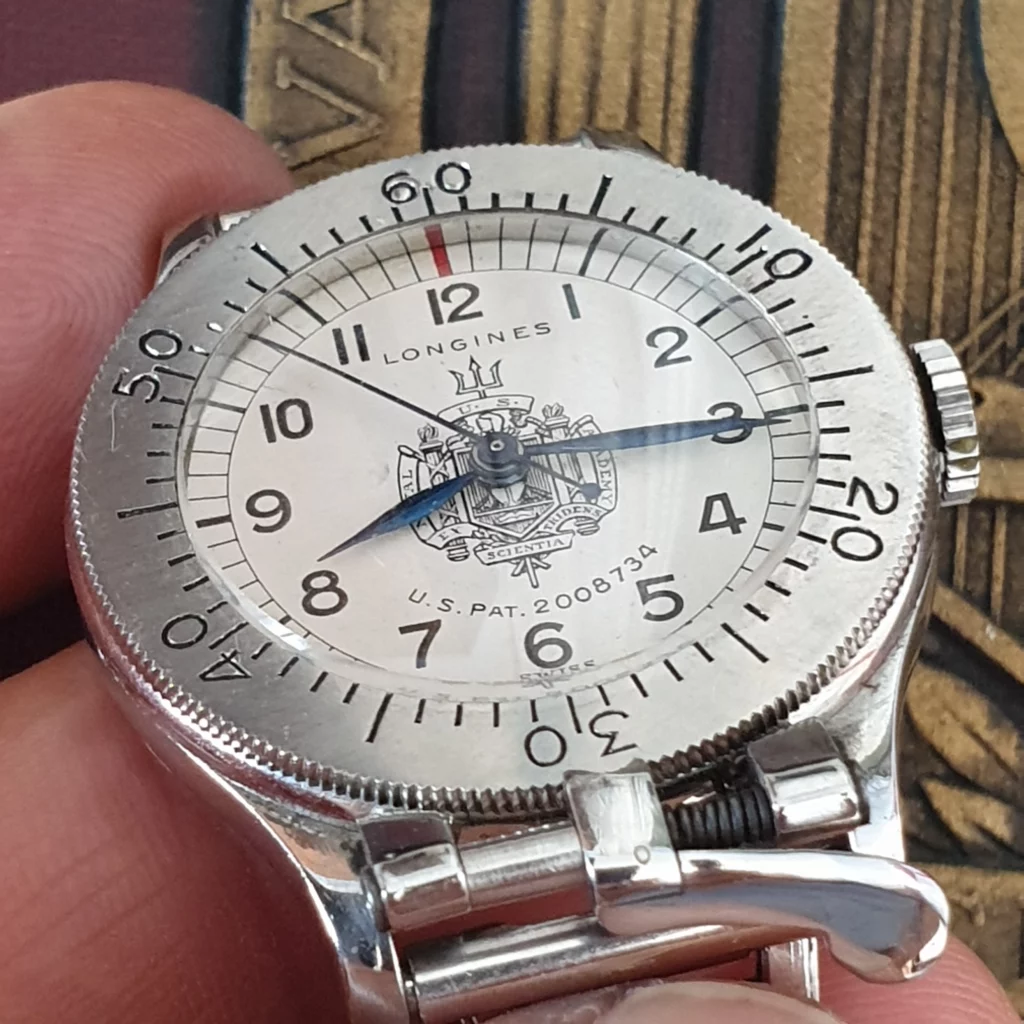 Longines literature from this time points to nickel silver prototype samples of other New second-setting watch versions with a turning bezel to make the second setting adjustment being sent to Baume in London for Weems to inspect in late 1936.
Longines already featured the ref 3931 in 1935 catalogues and this model was only ever made by Longines alongside the equally rare ref 3930. These models were replaced by the 4036 and later again by the slightly larger 4630. Other manufacturer's versions of the Weems model likely started to appear somewhere around 1938. The Longines ref 4630, with a 34mm all steel case was made for civilian, and military use. Pieces with UK military specifications were delivered in 1940 and also made by Zenith, Movado, Jaeger Le Coultre and Omega.
Therefore, Longines has multiple claims to being the very first with calibrated turning bezels.
The world's very first turning calibrated bezel watch is the Lindbergh Hour-angle watch and the very first example was completed by Longines on November 18, 1929. It was delivered a few months later in the first part of 1930. The Hour-angle takes the checkered flag by a number of years on delivery of the so called New-second setting Longines Weems models which given multiple models existence take second and third.
The first sample Weems in a silver case with a turning bezel, resembled ref 4037, albeit with no reference and was originally made by Longines on December 28, 1931. It was supplied to Wittnauer in February 1932 and modified for by Harry Nash for Henry Hughes and Son in London. Other Longines Weems references ref 3931 (1935) and 3930 took third and fourth places. In 1937, the Rolex Zerograph model followed these Longines turning bezel executions.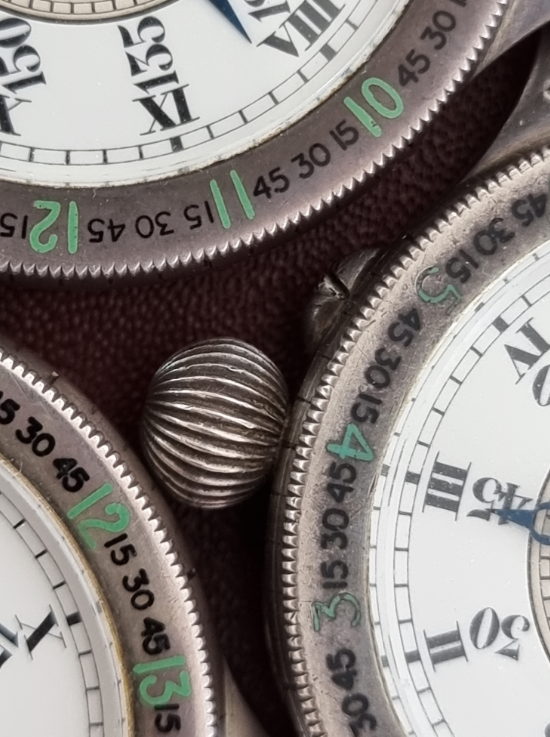 The turning bezel issue was first discussed in Weems Air Navigation book first edition book by the author (published in 1931). Recent discoveries by the author have unearthed the world's first Hour-angle prototype watch which is also the world's first watch with a turning calibrated bezel. This prototype's existence noted in correspondence paint an incredible chapter in the development and evolution of the two most famous pilot watches ever made. 
Further testing, alterations and improvements allowed a Swiss patent request to be filed on the 29 September 1931 for the Montres angle-horaire. It received approval two days later on October 1, with the first known sales and deliveries in late 1931. 
The Longines 47mm Lindbergh Hour-angle model is the world's first calibrated turning bezel watch and precedes all other watches from all makers. It also runs second and third and likely fourth in this space.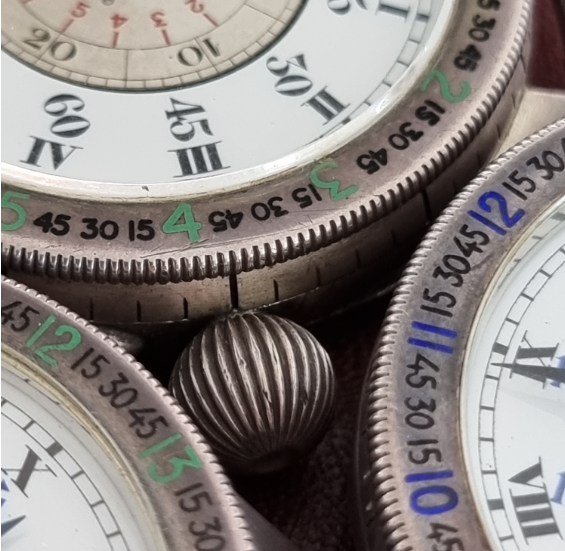 ---
[1] Longines through Time The story of the Watch Stephanie Lachat p116
[2] Air Navigation P.V.H Weems 1931 first edition p411.
[3] Man's Fight to Fly  John P.V. Heinmuller p75
[4] Longines through Time The story of the Watch Stephanie Lachat p116
[5] Longines through Time The story of the Watch Stephanie Lachat p116